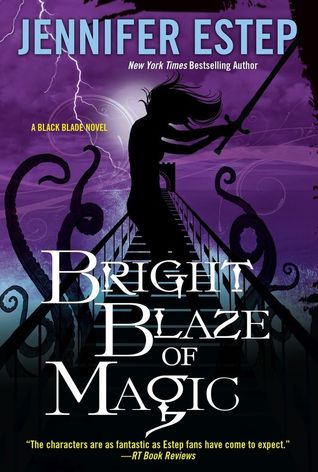 Black Blade, Book 3
Synopsis: Bad Things Always Come In Threes…

As a thief, I'm good at three things: hiding in the shadows, getting in and out unseen, and uncovering secrets. I put these skills to work for the Sinclair Family, one of the magical mobs that run the tourist town of Cloudburst Falls.

Everyone knows Victor Draconi wants to take over all the other Families–and kill every last Sinclair. What they don't know is that I'm on to him, and no way will I let the man who murdered my mom get away with hurting all the other people I care about. Especially when I've got places to break into, stuff to steal, and Devon Sinclair fighting right by my side…
Review: I really had fun while discovering the first two volumes and it is true that I was really looking forward to be able to immerse myself in this third one. I can also tell you that I was completely carried away by all what the author has presented! A great volume again.
We thus find our heroine launched on new adventures and I must say that it will take her courage because she will literally see all the colors!
Indeed, it seems that Victor has finally decided to hit hard to take the lead of all families. Fortunately for them, our heroes had anticipated this attack to limit the effects but it does not change the terrible consequences that will occur. It was fascinating to see our heroes coming together to try to save their friends, and it will not be easy, that's for sure. Lila will be the brain of the group and the main target of the Draconi with Devon. I was really excited to see how everything would unfold, how our heroes would be able to get by, to understand the designs of Victor, to see how Lila would be able to release all these people she loves. Many important events are presented here and I admit that what intrigued me most was the interaction of our heroine with the monsters of her city. It's quite touching to see the confidence she has in them, to see that she knows them better than anyone and finally that they can also be there for her. It really is a very good novel!
I do not know if this volume is the last one, but if this is the case the author has perfectly managed to close her history, even if it's true that I'd really love to have more. I was carried away from the start of the volume and that until the end! I must say that we are immersed quickly into the action and we look forward to the resolution of the story. Lila has also evolved tremendously through the books and it's true that it's nice to see that, her being part of something and to have friends who rely on her and on which she can count on too. Her story with Devon is also very touching!
As I said, I had once again a great time. If you do not know the series, I can only advise you to try, you will be carried away by this unusual story, these characters we love and this evil that we hope to see disappear! It rocks!


http://fantasticflyingbookclub.blogspot.com/2016/03/tour-schedule-bright-blaze-of-magic.html
GIVEAWAY:
Prizes: Win (1) of (3) finished copies of BRIGHT BLAZE OF MAGIC by Jennifer Estep (US Only)
Win a $20 Amazon Gift Card (INT)
BOOK LINKS:
Goodreads: https://www.goodreads.com/book/show/25923471-bright-blaze-of-magic
Amazon paperback: http://amzn.to/1rgHrtF
Barnes & Noble (B&N): http://www.barnesandnoble.com/w/bright-blaze-of-magic-jennifer-estep/1122454886?ean=9781617738289
Bookdepository: http://www.bookdepository.com/Bright-Blaze-of-Magic-Jennifer-Estep/9781617738289
iTunes: https://itunes.apple.com/mx/book/bright-blaze-of-magic/id1053344730?mt=11
Kobo: https://store.kobobooks.com/es-es/ebook/bright-blaze-of-magic