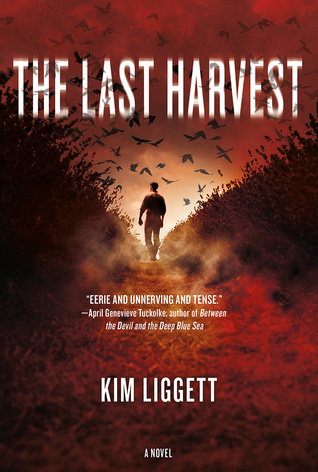 Synopsis:

"I plead the blood."

Those were the last words seventeen-year-old golden boy quarterback Clay Tate heard rattling from his dad's throat when he discovered him dying on the barn floor of the Neely Cattle Ranch, clutching a crucifix to his chest.

Now, on the first anniversary of the Midland, Oklahoma slaughter, the whole town's looking at Clay like he might be next to go over the edge. Clay wants to forget the past, but the sons and daughters of the Preservation Society—a group of prominent farmers his dad accused of devil worship—won't leave him alone. Including Ali, his longtime crush, who suddenly wants to reignite their romance after a year of silence, and hated rival Tyler Neely, who's behaving like they're old friends.

Even as Clay tries to reassure himself, creepy glances turn to sinister stares and strange coincidences build to gruesome rituals—but when he can never prove that any of it happened, Clay worries he might be following his dad down the path to insanity…or that something far more terrifying lies in wait around the corner.
Review: It's been a long time since I read a novel of this kind, a novel of anguish or even horror but it is always interesting to plunge back into this type of atmosphere. I had the opportunity to read some reviews before beginning the story and it was with pleasure that I saw that they were all positive even if several explained that for a YA novel, that it did not correspond to a youthful novel. I can understand that and it is true that I did not expect the story to be so black, but knowing it, it did not bother me.
We discover Clay, a young boy in charge of his family after the death of his father in strange conditions. But now, since this tragedy, almost a year ago, he is sidelined and his friends have abandoned him. Yet, it seems that things are changing …. His family gradually begins to dislocate, while his friends return to him, hoping that he would take his place in the Society of Preservation (something he did everything to avoid). The counselor of her school is convinced that these people worship the devil and that only Clay can prove it. But here, our hero does not know how to situate himself in relation to the different events, not knowing if he loses his head like his father and if something sinister is really happening.
I was easily taken by the story and the very special atmosphere of the book although it is true that it is very difficult to disentangle the true from the false. I understand the relentlessness nature of Clay as he tried to understand and tried to fix things even if it is something very complicated. Besides, I did not see the end coming at all and it was very amazing even though I understand a bit why now. Many events are taking place and we are trying to discover the truth with Clay. It's a different story and it's one really well done in its kind. I do not want to say too much because I think you really have to read it to understand everything but it was an amazing discovery. The story gives you chills while taking you through short chapters. There are many questions about the characters and their behavior. It really is very difficult to understand what is really going on, and the suspense is kept to the end.