We are happy today to welcome Elle Kennedy on the blog. She is the author of the NA series Off-Campus. I can only recommend for you to read it!
---
Nous sommes heureuses d'accueillir Elle Kennedy sur le blog aujourd'hui. C'est l'auteure de la série new-aldult Off-Campus. Cette série existe en poche et grand format chez Hugo Roman

---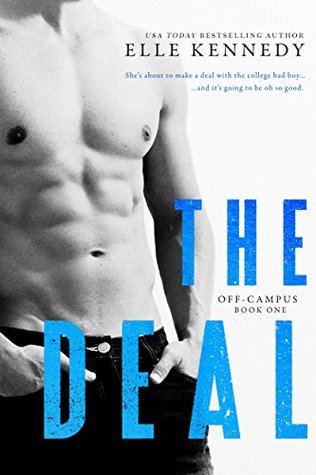 Your Off-Campus novels are self-published, did you expect such a positive impact?
Not at all! As crazy as it sounds, I like to write for fun in between contracted books, and The Deal started off as a fun side project just for me. After I told a friend about it, she wanted to read it, and once she did, she told me that I HAD to publish it. And I'm so happy I did, and that the reader response has been so positive!
You have some really interesting characters in your stories, how did they come up?
My characters are fictional, but sometimes I base certain aspects of their personalities on people I know or have met. Real life is a great inspiration.
Will we have more books after book 4 "The Goal" or is it the last one? Can you tell us a bit more about that ?
The Goal is the last book of the series, but I recently announced that this fall I'll be writing a spin-off to Off-Campus. It was time for our four boys to graduate and let the next generation take the spotlight.
You tried different genres, which one is your favorite and why?
Every genre has its pros and cons, so that's a hard decision! I guess New Adult would be a favorite? I think there's something sweet about finding love while you're still finding yourself.
Have you ever been in France or do you plan to?
I have never been to France, but I have always wanted to vist! My grandmother was born in France and lived there for many years, so I am ¼ French!
---
Vos romans Off-Campus ont tout d'abord été auto-édités,
aviez-vous prévu un tel impact positif?
Pas du tout! Aussi fou que cela puisse paraître, j'aime écrire pour m'amuser entre les livres contractuels, et The Deal a commencé comme un projet amusant pour moi. Après en avoir parlé à une amie, elle voulait le lire, et une fois qu'elle l'a fait, elle m'a dit que je devais le publier. Et je suis tellement heureuse de l'avoir fait, et que la réponse des lecteurs ait été si positive!
Vous avez des personnages vraiment intéressants dans vos histoires, comment vous sont-ils venus?
Mes personnages sont fictifs, mais parfois, je fonde certains aspects de leur personnalité sur des personnes que je connais ou que j'ai rencontrées. La vraie vie est une excellente inspiration.
Est-ce que nous aurons plus de livres après le livre 4 "The Goal" ou est-ce le dernier? Pouvez-vous nous en dire un peu plus à ce sujet?
The Goal est le dernier livre de la série, mais j'ai récemment annoncé que cet automne, j'écrirai un spin-off sur Off-Campus. Il était temps pour nos quatre garçons de progresser et de laisser la prochaine génération sous le feu des projecteurs.
Vous avez essayé différents genres, quel est votre favori et pourquoi?
Chaque genre a ses avantages et inconvénients, donc c'est une décision difficile! Je suppose que le New Adult serait mon préféré. Je pense qu'il y a quelque chose de doux à trouver de l'amour pendant que vous essayez d'apprendre à vous connaitre.
Avez-vous déjà été en France ou l'envisagez-vous?
Je n'ai jamais été en France, mais j'ai toujours voulu venir! Ma grand-mère est née en France et y a vécu pendant de nombreuses années, alors je suis ¼ française !
---
Website: http://www.ellekennedy.com/
Off-Campus, Tome 1
Résumé : Hannah est une très bonne élève et elle a un don incroyable pour le chant.

Mais quand il s'agit d'hommes et de séduction, elle perd tous ses moyens. Garrett est la star de l'équipe de hockey de l'université, mais ses résultats scolaires ne sont pas à la hauteur et il risque de perdre sa place dans l'équipe. Ils vont passer un drôle d'accord.

Elle lui donne des cours et il l'aide à séduire le quaterback de l'équipe de football.