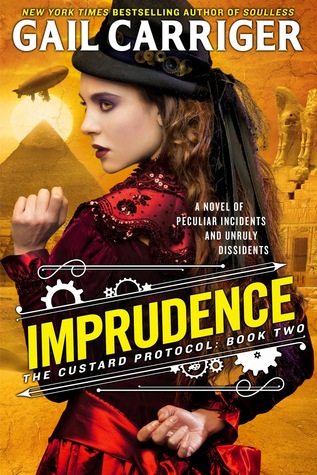 The Custard Protocol, Book 2
Synopsis: London is in chaos.

Rue and the crew of The Spotted Custard returned from India with revelations that shook the foundations of the scientific community. There is mass political upheaval, the vampires are tetchy, and something is seriously wrong with the local werewolf pack. To top it all off, Rue's best friend Primrose keeps getting engaged to the most inappropriate military types.

Rue has got personal problems as well. Her vampire father is angry, her werewolf father is crazy, and her obstreperous mother is both. Worst of all, Rue's beginning to suspect what they all really are… is frightened.

When the Custard is ordered to Egypt, transporting some highly unusual passengers, Rue's problems go from personal to impossible. Can she get Percy to stop sulking? Will she find the true cause of Primrose's lovesickness? And what is Quesnel hiding in the boiler room?
Review: I liked the first volume without really loving it as I loved the Parasol Protectorate series. It was very nice to find all the children of the characters that we had the opportunity to discover through the volumes. Also, I was curious to find them in the continuation of their adventures.
Lord Maccon is suffering and it seems that the only way to help him is to make him human, but this is only possible in Egypt. Together, they take Rue's ship to get there. After having somewhat attended the consequences of this new madness, we find with pleasure Alexia. I really like her very much and it's always nice to see her present in the story. It is sad, however, to see the characters leave and to see Rue realize that she will not have them at hand as she used to. Fortunately for her, Dama is always present to help her. In addition to this, Rue must manage her crew and the jealousies of everyone who will not fail to attract an attention that they would have preferred to avoid. But Rue also has her attention focused on Percy and their games. It is very cute to see them together but I am curious to see how it will end up.
It was an action-packed reading and I really hope that we will see Alexia, Lord Maccon and that the other old characters again other than just by mention in the conversations. It's always interesting to see Rue discover the world and the things she did not suspect about her family. A nice novel to read!