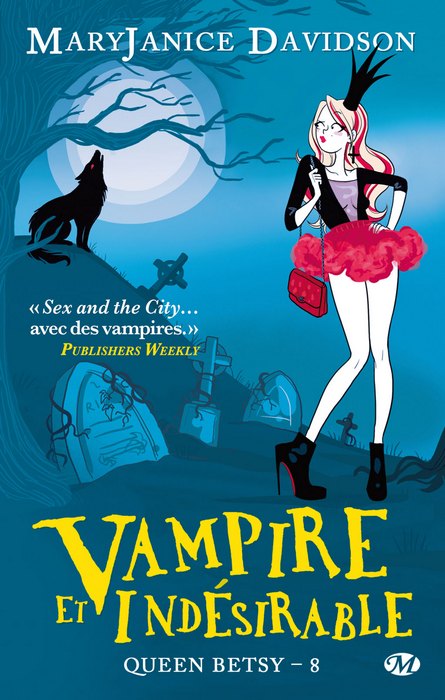 Vampire et Indésirable (Queen Betsy, 8) – MaryJanice Davidson

Soixante-quinze mille loups-garous enragés !
Voilà ce qui attend Betsy lorsqu'elle ramène à sa meute le corps de son amie Anthonia. Celle-ci est morte sous ses ordres et Betsy, rongée par la culpabilité, ignore quel accueil lui réservent les loups. Mais alors que Sinclair et elle essaient de faire bonne figure auprès de leurs hôtes, des messages les alertent du comportement étrange de sa demi-soeur. La fille du diable révèle son véritable visage… et se prépare à leur faire vivre un enfer.
Something secret this way comes (Secret McQueen, 1) – Sierra Dean
For Secret McQueen, her life feels like the punch line for a terrible joke. Abandoned at birth by her werewolf mother, hired as a teen by the vampire council of New York City to kill rogues, Secret is a part of both worlds, but belongs to neither. At twenty-two, she has carved out as close to a normal life as a bounty hunter can.

When an enemy from her past returns with her death on his mind, she is forced to call on every ounce of her mixed heritage to save herself—and everyone else in the city she calls home. As if the fate of the world wasn't enough to deal with, there's Lucas Rain, King of the East Coast werewolves, who seems to believe he and Secret are fated to be together. Too bad Secret also feels a connection with Desmond, Lucas's second-in-command…
 The trouble with Fate (Mystwalker, 1) – Leigh Evans
My name is Hedi Peacock and I have a secret. I'm not human, and I have the pointy Fae ears and Were inner-bitch to prove it. As fairy tales go, my childhood was damn near perfect, all fur and magic until a werewolf killed my father and the Fae executed my mother. I've never forgiven either side. Especially Robson Trowbridge. He was a part-time werewolf, a full-time bastard, and the first and only boy I ever loved. That is, until he became the prime suspect in my father's death…
Today I'm a half-breed barista working at a fancy coffee house, living with my loopy Aunt Lou and a temperamental amulet named Merry, and wondering where in the world I'm going in life. A pretty normal existence, considering. But when a pack of Weres decides to kidnap my aunt and force me to steal another amulet, the only one who can help me is the last person I ever thought I'd turn to: Robson Trowbridge. And he's as annoyingly beautiful as I remember. That's the trouble with fate: Sometimes it barks. Other times it bites. And the rest of the time it just breaks your heart. Again… 
Crave the Darkness (Shaede Assassin, 3) – Amanda Bonilla
Nothing comes easy for Darian. Her heightened powers make her indispensable to the Shaede Nation, but dangerous missions have driven her lover, Tyler, to his breaking point. Darian must salvage their bond, but a new assignment to protect Anya—a fellow Shaede and the first of their kind to become pregnant in centuries—stands in their way.
It doesn't help that the two Shaedes are longtime rivals and share nothing besides mutual hatred. But when it becomes clear that someone—or something—is bent on destroying the expectant mother and her unborn child, Darian must put her feelings aside and track down Anya's would-be assassin.
As she probes into Anya's past, Darian digs up long-buried secrets—and a connection between Tyler and the mission that could destroy everything between them…