Stacking the Shelves is a meme hosted by Tynga's Reviews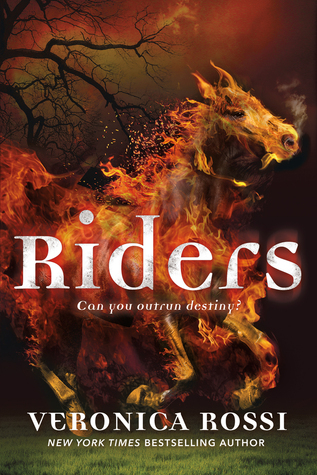 Riders (Riders, 1) – Veronica Rossi
Nothing but death can keep eighteen-year-old Gideon Blake from achieving his goal of becoming a U.S. Army Ranger. As it turns out, it does.
While recovering from the accident that most definitely killed him, Gideon finds himself with strange new powers and a bizarre cuff he can't remove. His death has brought to life his real destiny. He has become War, one of the legendary four horsemen of the apocalypse.
Over the coming weeks, he and the other horsemen—Conquest, Famine, and Death—are brought together by a beautiful but frustratingly secretive girl to help save humanity from an ancient evil on the emergence.
They fail.
Now—bound, bloodied, and drugged—Gideon is interrogated by the authorities about his role in a battle that has become an international incident. If he stands any chance of saving his friends and the girl he's fallen for—not to mention all of humankind—he needs to convince the skeptical government officials the world is in imminent danger.
But will anyone believe him?
UFO Hunters Book 2 – William J. Birnes
A young girl digs up a thousand-year-old humanoid skull from a cave in northern Mexico. But the skull contains no human DNA.
An amateur videographer taking footage of lights over Mount Shasta, California, captures a giant floating triangle on tape. It's not a plane. It's not a helicopter. What is it?
These questions and more are answered in UFO Hunters Book Two. Using eyewitness accounts and information from footage never before seen on television, author William Birnes takes readers on the hunt for the real truth about flying saucers, what they are, and why they're here. This is the second companion to the popular HISTORY series and should delight fans in every way.
All Fixed Up (Ciel Halligan, 4) – Linda Grimes
Ciel Halligan, aura adaptor extraordinaire, has a lot of experience filling in for her clients–as them. A rare genetic quirk gives her the ability to absorb human energy and project it back out in a flawless imitation. She's hard at work, posing as a well-known and celebrated astronaut, about to make a stunning announcement on behalf of the space program…when the photographer documenting the job sees right through her aura. Worse, it soon becomes apparent that he not only knows Ciel's not who she's supposed to be, but means her harm.
When Ciel's elderly Aunt Helen—also an aura adaptor—is murdered in Central Park, and the same photographer shows up at the funeral, Ciel starts to feel even more exposed. Then more adaptors are killed in the same way, and she becomes terrified her friends and family are being systematically exterminated … and it's starting to look like she's the ultimate target. She turns to Billy Doyle, her best-friend-turned-boyfriend, for help, but when an unexpected crisis causes him to take off without a word, she's left to rely on her not-so-former crush, CIA agent Mark Fielding.
Staying alive, keeping control of her romantic life, and unraveling the mystery of why adaptors are being pursued becomes a harder balancing act than ever in this new Ciel Halligan adventure from Linda Grimes.
Maybe Not (Maybe Someday, 1.5) – Colleen Hoover
Quand il a l'opportunité de s'installer en colocation avec une jolie blonde, Warren accepte sans hésiter. Ce pourrait être une expérience excitante… Mais peut-être pas. Surtout quand cette coloc est Bridgette, une fille un peu froide et très têtue. Rapidement, la tension est tellement palpable que ces deux-là ont du mal à rester dans la même pièce. Mais Warren a une théorie : quand on est capable de tant de haine pour une personne, on peut facilement transformer ces sentiments en passion. Et il a bien l'intention de le tester sur Bridgette. Réussira-t-il à réchauffer son coeur et lui apprendre à aimer ? Peut-être. Mais peut-être pas.