Stacking the Shelves is a meme hosted by Tynga's Reviews
The Librarians and the lost lamp (The Librarians, 1) – Gregn Cox
For millennia, the Librarians have secretly protected the world by keeping watch over dangerous magical relics. Cataloging and safeguarding everything from Excalibur to Pandora's Box, they stand between humanity and those who would use the relics for evil.
Ten years ago, only Flynn Carsen, the last of the Librarians, stood against an ancient criminal organization known as The Forty. They stole the oldest known copy of The Arabian Nights by Scheherazade, and Flynn fears they intend to steal Aladdin's fabled lamp. He races to find it first before they can unleash the trapped, malevolent djinn upon the world.
Today, Flynn is no longer alone. A new team of inexperienced Librarians, led by Eve Baird, their tough-as-nails Guardian, investigates an uncanny mystery in Las Vegas. A mystery tied closely to Flynn's original quest to find the lost lamp. . . and the fate of the world hangs in the balance.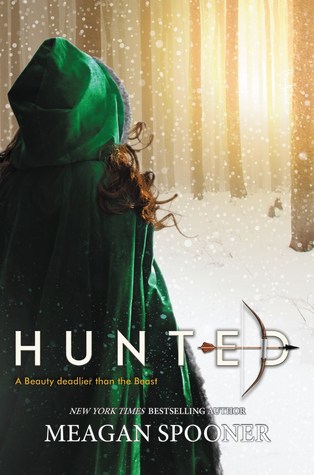 Hunted (Hunted, 1) – Meagan Spooner
Beauty knows the Beast's forest in her bones—and in her blood. Though she grew up with the city's highest aristocrats, far from her father's old lodge, she knows that the forest holds secrets and that her father is the only hunter who's ever come close to discovering them.
So when her father loses his fortune and moves Yeva and her sisters back to the outskirts of town, Yeva is secretly relieved. Out in the wilderness, there's no pressure to make idle chatter with vapid baronessas…or to submit to marrying a wealthy gentleman. But Yeva's father's misfortune may have cost him his mind, and when he goes missing in the woods, Yeva sets her sights on one prey: the creature he'd been obsessively tracking just before his disappearance.
Deaf to her sisters' protests, Yeva hunts this strange Beast back into his own territory—a cursed valley, a ruined castle, and a world of creatures that Yeva's only heard about in fairy tales. A world that can bring her ruin or salvation. Who will survive: the Beauty, or the Beast?
Vertige (Les Etoiles de Noss Head, 1) – Sophie Jomain
Hannah, bientôt dix-huit ans, était loin d'imaginer que sa vie prendrait un tel tournant. Ses vacances tant redoutées à Wick vont se transformer en véritable conte de fées, puis en cauchemar… Tout va changer, brutalement. Elle devra affronter l'inimaginable, car les légendes ne sont pas toujours ce qu'on croit. Leith, ce beau brun ténébreux, mystérieux, ne s'attendait pas non plus à Hannah. Il tombe de haut, l'esprit a choisi : c'est elle, son âme soeur. Pourra-t-il lui cacher ses sentiments encore longtemps ? Osera-t-il lui avouer qu'il n'est pas tout à fait humain ? Il le devra, elle est en danger et il lui a juré de la protéger, toujours…
Hors de Contrôle (Hors de Portée, 3)- Georgia Caldera
Une attitude un brin brutale, un caractère des plus ombrageux, une façon de parler bien à lui, mais incroyablement fascinant… Malgré le fiasco de la soirée de gala, Axel est tout cela, et bien plus encore.
Une seule chose est certaine pour Sonia : elle doit le retrouver. Dans quel but ?
Ont-ils toujours un avenir ensemble ? Rien n'est moins sûr…
Et pourtant, c'est ainsi, les papillons refusent de mourir