Stacking the Shelves is a meme hosted by Tynga's Reviews
William (Les Gentleman de New York, 2) – Joanna Shupe
Il est une seule chose plus envoûtante que l'or…
Issu d'une des familles les plus respectées de New York, William Sloane est un financier des chemins de fer qui a réussi à gravir tous les échelons de la société. Désirant toujours plus, il souhaite maintenant faire son entrée sur la scène politique. Lorsqu'il rencontre la charmante « Madame Zolikoff » qui prétend communiquer avec les esprits, il décide de révéler la supercherie pour le bien-être de ses concitoyens. Mais il en est empêché dès l'instant où il croise les yeux de la séduisante ensorceleuse. Dès lors, William devra concilier ses rêves de grandeur et son attirance pour cette jeune femme charlatan.
Talons Aiguilles & Coups de Théâtre (Playboys, 2) – Jane Graves
Une romance qui démarre sur les chapeaux de roue…
En rentrant de vacances, Darcy McDaniel découvre que son mari a vendu leur maison et toutes ses affaires avant de disparaître. Désespérée, elle est obligée d'échanger son pavillon contre un mobile-home et ses séances de shopping contre un job. Rien ne s'arrange lorsqu'elle a affaire à John Stark, un ex-flic reconverti en huissier, qui saisit sa voiture. Même si Darcy est une femme de la haute, il accepte de l'engager. Ce qu'il regrette aussitôt car il ne pensait pas qu'elle le rendrait fou de désir. Leurs styles de vie étant totalement opposés, réussiront-ils à prouver que les contraires s'attirent ?
Merci à l'Ancre Littéraire pour mon anniversaire !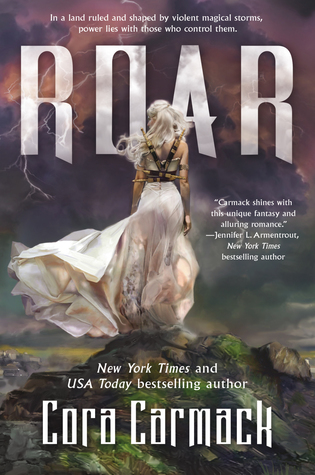 Roar (Stormheart, 1) – Cora Carmack
In a land ruled and shaped by violent magical storms, power lies with those who control them.
Aurora Pavan comes from one of the oldest Stormling families in existence. Long ago, the ungifted pledged fealty and service to her family in exchange for safe haven, and a kingdom was carved out from the wildlands and sustained by magic capable of repelling the world's deadliest foes. As the sole heir of Pavan, Aurora's been groomed to be the perfect queen. She's intelligent and brave and honorable. But she's yet to show any trace of the magic she'll need to protect her people.
To keep her secret and save her crown, Aurora's mother arranges for her to marry a dark and brooding Stormling prince from another kingdom. At first, the prince seems like the perfect solution to all her problems. He'll guarantee her spot as the next queen and be the champion her people need to remain safe. But the more secrets Aurora uncovers about him, the more a future with him frightens her. When she dons a disguise and sneaks out of the palace one night to spy on him, she stumbles upon a black market dealing in the very thing she lacks—storm magic. And the people selling it? They're not Stormlings. They're storm hunters.
Legend says that her ancestors first gained their magic by facing a storm and stealing part of its essence. And when a handsome young storm hunter reveals he was born without magic, but possesses it now, Aurora realizes there's a third option for her future besides ruin or marriage.
She might not have magic now, but she can steal it if she's brave enough.
Challenge a tempest. Survive it. And you become its master.
Nos Chemins de Travers – Georgia Caldera
Depuis des années Louis et Emma se côtoient sans vraiment se connaître. Au lycée, au centre équestre et même à la fac, il est ce garçon populaire, star des concours et de sa promo, pour qui toutes les filles craquent en dépit de son arrogance. Timide et réservée, Emma, elle, n'a qu'un objectif : passer inaperçue. Leurs rapports se résument donc à une ignorance cordiale jusqu'au jour où Louis décide d'humilier publiquement la jeune femme.

Mais un tragique accident va mettre les compteurs à zéro. Après avoir mordu la poussière, Louis se heurte à une solitude cruelle et inattendue, qui lui montre la réalité sous un tout autre jour.

Emma sera-t-elle prête, elle aussi, à reconsidérer son jugement pour l'aider à se relever ?