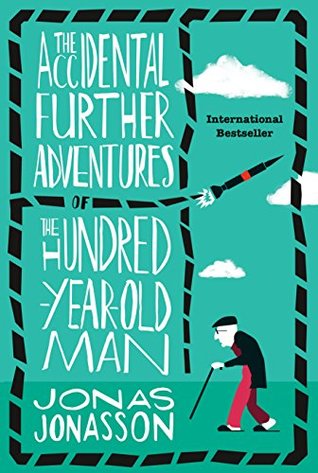 The Hundred-Year-Old Man, Book 2
Synopsis: It all begins with a hot air balloon trip and three bottles of champagne. Allan and Julius are ready for some spectacular views, but they're not expecting to land in the sea and be rescued by a North Korean ship, and they could never have imagined that the captain of the ship would be harbouring a suitcase full of contraband uranium, on a nuclear weapons mission for Kim Jong-un …

Soon Allan and Julius are at the centre of a complex diplomatic crisis involving world figures from the Swedish foreign minister to Angela Merkel and President Trump. Things are about to get very complicated …
Review: I heard a lot about the first volume and if I did not read it, I was very curious to discover this sequel.
Allan and Julius enjoy their money in Bali. Alas, when you spend it as they do, the money quickly runs out and the problems happen. However, they did not expect to get into a hot air balloon to be rescued by a Korean ship and taken to North Korea. But this is just the beginning of their journey because our two heroes are very good at getting into trouble and meeting very influential characters (and making them angry).
I was very impressed by the author's research in this novel at the political level, and this around the world. It was also very interesting with all these actuals references. Our heroes will travel around the world, always completely crazy, because yes, this novel is really crazy, but it's also nice to be able to read something different.
I had a good time with this second volume, always wondering what problem Julius and Allan were going to find.