Stacking the Shelves is a meme hosted by Tynga's Reviews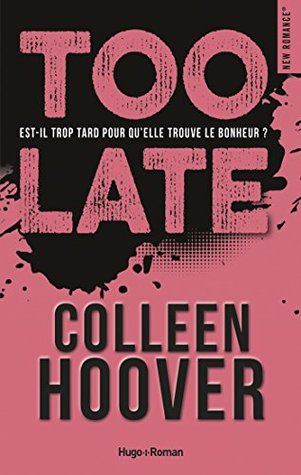 Too Late – Colleen Hoover
Est-il trop tard pour éviter le pire ?
Sloan est une jeune femme comme beaucoup d'autres. Elle est étudiante, a un copain, Asa, dont elle partage la vie depuis plusieurs années. Mais si les débuts de leur relation ont été idylliques, Sloan sait maintenant qu'Asa est un homme perturbé, aux règles morales très floues. Elle est malheureusement coincée dans cette liaison toxique car Asa a des moyens de pression sur elle : il l'aide à financer la prise en charge de son petit frère handicapé. Cela suffit pour qu'elle accepte cette situation toxique.
En fac, elle va faire la connaissance de Carter. Il a l'air d'un étudiant comme les autres, sauf qu'elle va le retrouver aux côtés d'Asa, associé à ses affaires de trafics. L'intérêt qu'il avait éveillé en elle s'éteint alors aussitôt.
Mais elle va croiser Carter très souvent puisqu'il travaille avec Asa. Qui est vraiment Carter ? Il la fascine de plus en plus. Comment va réagir Asa qui voue un amour possessif à Sloan ?
Asa, Carter et Sloan évoluent dans une atmosphère de plus en plus trouble et tendue. Quelle issue trouveront-ils à cette dangereuse situation ?
Being Brooke (Barley Cross, 1) – Emma Hart
My name is Brooke Barker…
And I'm a freaking disaster.
No, seriously. I'm a college drop-out working a dead-end job, my best friend Carly's dog gets more action than I do, and I have more bad dates in my diary than there are movie remakes.
Not to mention I'm completely and utterly in love with Cain Elliott.
The problem? He's in a relationship. With a girl who's so plastic she makes Barbie cry herself to sleep with jealousy.
The second problem? He's my best friend.
My shut-up-and-put-on-Harry-Potter, yes-this-is-your-shirt, help-I-have-no-power, crap-I'm-out-of-tampons, kinda best friend.
And that's all he can be, right?
Right.
(Being Brooke is a standalone romantic comedy. Hilarious, super-sexy, and possibly highly inappropriate at times, this is the perfect feel-good read!)