Weird Girls, Book 3
Synopsis: Celia Wird and her three sisters are just like other 20-something girls—with one tiny exception: they're products of a backfired curse that has given each of them unique powers that make them, well, weird……

Celia's a girl in trouble.  Her heart is bound to Aric, but he is a pureblood were who must deny her or risk condemning his species to extinction.  And that's just her love life. She's also been called to take down a group of demon terrorists looking to overthrow the paranormal world. (No pressure.)

In order to bring them down, Celia must ally herself to Misha, the master vampire who has made no secret of his desire for her. And if that weren't enough misfortune for one girl, a clairvoyant's prediction could destroy Celia and Aric's love for good. The only way to protect the world from unbridled supernatural terrorism is for Celia to bind herself to her destined mate. And that doesn't appear to be Aric.
Review: I was so eager to read the third volume of the adventures of Wird sisters. It must be said that after the end of the second volume and the novella, I could only be curious to read this new story. The Celia's life is always the most fascinating to follow.
As we knew it after the novella, Celia must now cope with the absence of Aric, as well as the Misha's insistence to create something between them. Yet this is very difficult for the young woman to deal with all that as she has never been in such a situation. In addition, it is increasingly difficult to see the man she loves living like that, away from her. Yet they still try to live a sort of clandestine relationship as best they can under the nose of the elders. But this only concerns her personal life. Yes because there is much more in this volume. Helped by Misha, Celia will have to try to work on her skills and see what she is capable of. Changing into another animal? To fight? To do yoga? Yes all this and many other things. Even if she works, she isn't very interested on all these things, but this training could save her life more than once. Because it seems that now, her enemies know exactly who she is, and actively seek to eliminate her. She will then need all the help her allies can provide.
I took a great pleasure in discovering this novel. Celia, like her sisters, has evolved over the previous volumes. Well, they know they don't have any choices; they must now fight to save the world. Moreover, there will be many battles, all very impressive and I enjoyed the author's work on these details. Of course, you can imagine that I was also really curious to see how the relationship between Celia / Aric / Misha would evolve now. I must say our heart is definitely broken for our heroine when we see all the things she has to go through to try to find happiness that it often seems inaccessible. Aric and Misha are two totally different yet both great men. We would like a nice story between Celia and Aric and yet all this is very difficult for many reasons. But I must admit that I would also love to see something happen between Celia and Misha to get a glimpse of what it could be for them. But the choice is quite difficult and yet I easily support Celia in her choices whatever they may be. Yet we can add a third character here, Tye, who is intended to have children with our tigress (depending on Destiny). I confess that I had a little trouble with this character when he appeared in the story at first… He is so arrogant and full of himself! Yet while the story unfolds, we begin to appreciate him a little more, although he is still far from being at the height of Misha or Aric but I am very curious to see what will happen later in the story.
We have a lot of things for each character here and I admit that I was surprised more than once. I won't, however, say more so you'll have the pleasure to discover all this. Cecy Robson presents a story without any dead time and it was very difficult to put the book down before finishing it as I was curious to see what would happen. Regarding the big villains of the story, I admit that I quickly realized who was behind the whole story and I was surprised to see that Celia needed more time to realize what was happening. But I was still surprised by many revelations and now that I've finished the novel, I'm really looking forward to read more, especially after such a purpose. If you have not tried the series yet, I highly recommend it. Each novel is very exciting. All the elements to make a very good series of urban fantasy are met: creatures of all kinds, explosive heroines and amazing plots. A Must Read!


—————–
CONCOURS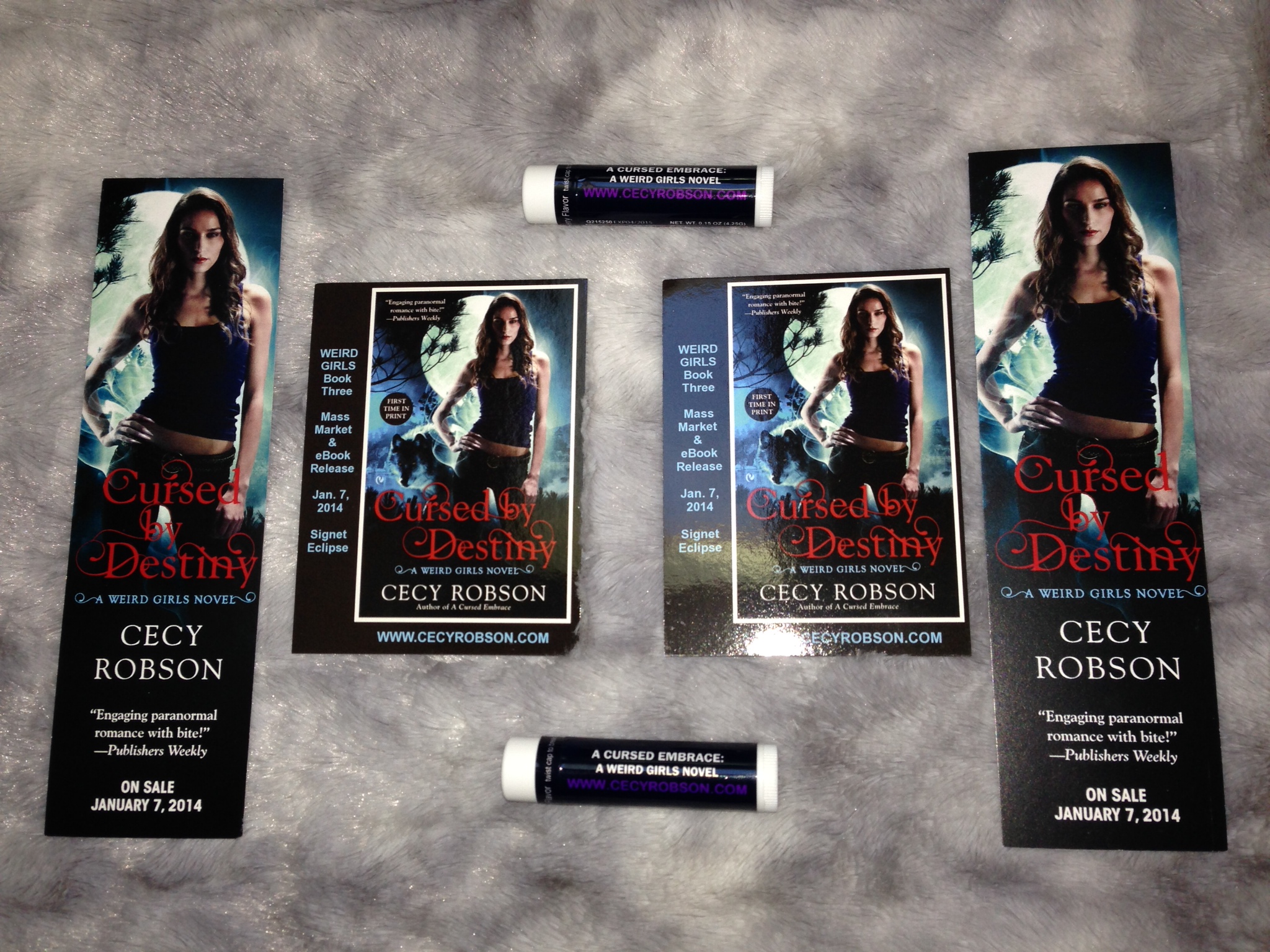 Thanks to the author, you can win a signed copy of CURSED BY DESTINY, a magnet, lip balm, and bookmark. And you know what? The giveaway is international! Awesome isn't it? And it ends on December 22sd. But, if you win on another blog, another winner will be chosen.
a Rafflecopter giveaway

Amazon: http://www.amazon.com/Cecy-Robson/e/B00ATRD6B4/ref=sr_tc_2_0?qid=1385503644&sr=8-2-ent
Barnes & Noble: http://www.barnesandnoble.com/s/Cecy-robson?store=allproducts&keyword=Cecy+robson
Signed copies of SEALED WITH A CURSE and A CURSED EMBRACE from University Bookstore: http://www.cecyrobson.com/Autographed_Book.php