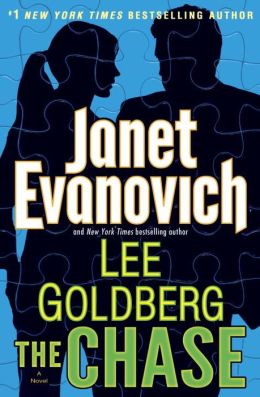 Fox and O'Hare, Book 2
Synopsis: Janet Evanovich and Lee Goldberg, bestselling authors of The Heist, return in this action-packed, exciting adventure featuring master con artist Nicolas Fox and die-hard FBI agent Kate O'Hare. And this time around, things go from hot to nuclear when government secrets are on the line.
 
Internationally renowned thief and con artist Nicolas Fox is famous for running elaborate and daring scams. His greatest con of all: convincing the FBI to team him up with the only person who has ever caught him, and the only woman to ever capture his attention, Special Agent Kate O'Hare. Together they'll go undercover to swindle and catch the world's most wanted—and untouchable—criminals.

Their newest target is Carter Grove, a former White House chief of staff and the ruthless leader of a private security agency. Grove has stolen a rare Chinese artifact from the Smithsonian, a crime that will torpedo U.S. relations with China if it ever becomes public. Nick and Kate must work under the radar—and against the clock—to devise a plan to steal the piece back. Confronting Grove's elite assassins, Nick and Kate rely on the skills of their ragtag crew, including a flamboyant actor, a Geek Squad techie, and a band of AARP-card-carrying mercenaries led by none other than Kate's dad.

A daring heist and a deadly chase lead Nick and Kate from Washington, D.C., to Shanghai, from the highlands of Scotland to the underbelly of Montreal. But it'll take more than death threats, trained henchmen, sleepless nights, and the fate of a dynasty's priceless heirloom to outsmart Fox and O'Hare.
Review: I was really curious to immerse myself in this second novel after finishing the first one and it was perfect as it was available. I enjoyed the first one although it lacked of a little something for me to fully understand the characters, but this time I must say that I am satisfied! This novel is really better than the first one and I took a great pleasure in seeing Kate and Nick in a much more complex and customized scam.
Our little duo has a new difficult mission early in the novel: to find an object that China wants to repatriate in its country. Yes, because the object in question is a fake one and it's up to Kate and Nick to find out where the real object is located and to exchange it as quickly as possible. But of course, everything is more complicated than expected, especially when the man in question is the former head of the White House, and he takes his privacy and security in very high esteem. Moreover, it is also why he is also the leader of a group of professional assassins who do not hesitate to kill for money. But when they manage to quickly recover the desired object, it seems that Carter did not take this robbery well and he is ready to do anything to have Nick, even if it means blackmailing an FBI agent.
I really enjoyed this new story. I find it really fascinating to see how each time Nick was able to construct his plans from beginning to end and to see at the same time the people hired to do this work. We also understand here that tackling influential people sometimes falls back on you quite easily. However, our two heroes are far from helpless and I loved seeing how they would solve their problems together.
As I said in the review of the first volume, I had some trouble to really connect with Kate even though she opened herself a little more at the end of the story, but I think that it is easier here to see who she really is. And I must say that I took great pleasure to read about her again and to see that this new life had finally changed her. This woman who lived only for her hunts, is left with adrenaline missions in preparation. Of course we also have Nick, equal to him, and it is true that I can not wait to see something happening between them and especially to see how they will handle it. I feel it will be very funny! Not to mention the presence of all the characters we met in the first volume, who play an important role here and others that we encounter in the course of the story, making fullest part of the scam. But I think the character I am most pleased to see is Jake, Kate's father who is always ready for any confrontation and does not hesitate to bring his retired friends to participate in the game.
Finally to conclude, therefore, I must say that it was a new great discovery and I'm curious about the next scam and to see all the characters I've learned to appreciate.