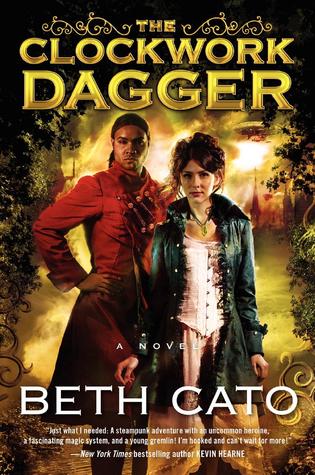 Clockwork Dagger Duology, Book 1
Synopsis: Orphaned as a child, Octavia Leander was doomed to grow up on the streets until Miss Percival saved her and taught her to become a medician. Gifted with incredible powers, the young healer is about to embark on her first mission, visiting suffering cities in the far reaches of the war-scarred realm. But the airship on which she is traveling is plagued by a series of strange and disturbing occurrences, including murder, and Octavia herself is threatened.

Suddenly, she is caught up in a flurry of intrigue: the dashingly attractive steward may be one of the infamous Clockwork Daggers—the Queen's spies and assassins—and her cabin-mate harbors disturbing secrets. But the danger is only beginning, for Octavia discovers that the deadly conspiracy aboard the airship may reach the crown itself.
Review: When I saw the cover I immediately thought of a steampunk novel and I love this genre. I did not know anything about the author, but it's true that I love discovering new writers and it was a good opportunity here. But I think my expectations were perhaps a little too high…
Octovia is a Medician, a person capable of using herbs and incantations to save anyone harmed, whatever the reason. But her secret must be hidden because many people might use her for disreputable purposes. Embarking on an airship to visit several cities and help those in need, she certainly does not expect to end up in a story that is completely beyond her. Indeed, it seems that many people are interested in this girl. Between a cabin's colleague who is much more important than what she seems, a stuart who hides his true identity and a gremlin that we can only adore, Octavia will have many things to do.
I'm sad to say that I was not hooked by the story or the characters and I struggled to finish the book. The idea is really nice and I loved the gremlin and its attachment to the characters but it's true that the rest failed to touch me particularly. I do not know what point really bothered me, and I think unlike me, other readers will be delighted. By cons I was quite surprised at the end of the novel and it's true that the story has carried me a little more at that time. It's pretty rare when I can not get into a novel like that, but I think this story was not made ​​for me. I think it will, however for others.