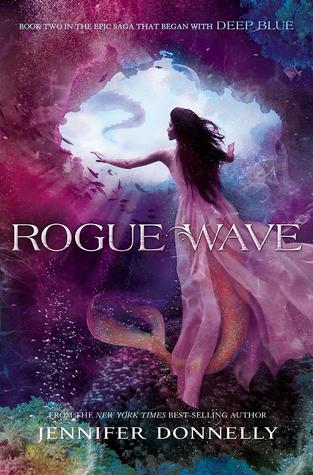 Waterfire Saga, Book 2
Synopsis: In this exciting sequel to DEEP BLUE, Serafina uncovers more clues about the talismans, Neela ventures into a sea dragon's nest, and Ling learns the identity of their foe.

Serafina, Neela, Ling, Ava, Becca, and Astrid, six mermaids from realms scattered throughout the seas and freshwaters, were summoned by the leader of the river witches to learn an incredible truth: the mermaids are direct descendants of the Six Who Ruled-powerful mages who once governed the lost empire of Atlantis. The ancient evil that destroyed Atlantis is stirring again, and only the mermaids can defeat it. To do so, they need to find magical talismans that belonged to the Six.

Serafina believes her talisman was buried with an old shipwreck. While researching its location, she is almost discovered by a death rider patrol led by someone familiar. . . . The pain of seeing him turned traitor is devastating.

Neela travels to Matali to warn her parents of the grave threat facing their world. But they find her story outlandish; a sign that she needs to be confined to her chamber for rest and recovery. She escapes and travels to Kandina, where her talisman is in the possession of fearsome razormouth dragons.

As they hunt for their talismans, both Serafina and Neela find reserves of courage and cunning they didn't know they possessed. They face down danger and death, only to endure a game-changing betrayal, as shocking as a rogue wave.
Review: I liked the first book without really being carried away but I was very curious to see how this one would be. I must say that I am always intrigued by stories highlighting sirens and I was curious about this one. I wanted to see if the second volume was above the first one. In the end, I can say that I had a good time with this story, although my feelings have not really changed, I liked to know more about our heroines and I'm still curious to learn more to the read the full story.
We alternately follow Neela and Serafina through the chapters. We follow their own goals, although they're finally quite close too. Indeed, Sera is determined to find the talismans that can save her people. But she is not the only one looking for them, yet she is the only one who is ready to die to get them back, whatever happens. Her quest will take her back home, where she will realize that everything she believed ultimately remains to be a lie. Truths are revealed, some touching us, others making us sad. I admit that I was glad that our princess finally understood the identity of Blue (yes it took her some time!). Her story with the young man is quite touching even if we know that nothing will end well, especially given the position of the boy. As for Neela, we find the girl at the heart of her family that she admonished the latest events. Yet, to her amazement, her parents believe her crazy and are determined to enclose her for her own good. But like Sera, the girl is determined to pursue her mission and will not hesitate to confront dragons to get there.
I spent a nice time with the novel, even if it is true that there are some lengths too. However, I was very curious to find out what would happen and how the events would turn out. The quests of our two heroines are very interesting but the obstacles are so great and I'm pretty excited to see how it will be resolved. So it was a nice novel, although it could have been a little more. I'll wait for the third book with pleasure.