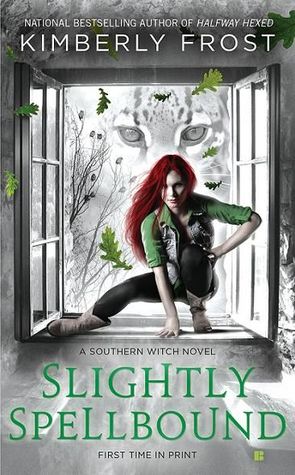 Southern Witch, Book 4
Synopsis: With two kinds of magick at odds inside her and two gorgeous men vying for her attention, Tammy Jo Trask is used to being pulled in opposite directions. But in the latest Southern Witch novel she'll have to make some serious decisions—like how she intends to stay alive.

Tammy Jo's romance with the wizard Bryn Lyons is on hold while her ex-husband is in town trying to remind her of the good old days. Choosing between them isn't easy, and it doesn't help that a skeletal creature is spying on her, a faery knight is hunting her, and she just made friends with Evangeline Rhodes—a rich witch who thinks her own family is trying to kill her.

When Evangeline disappears under suspicious circumstances, Tammy Jo is determined to find out what happened. As she uncovers a secret more dangerous—and personal—than she could have imagined, she also discovers that, in both love and magic, you can't stay neutral forever.
Review: I waited for the release of this novel for a long time and the re released of the previous volumes has allowed me to see this volume coming little by little. Of course, it was pre-ordered as soon as possible and I was eager to read it after seeing some glowing reviews about the story.
It's been several years since the previous volume was released and I do not remember in detail everything that had happened before. However, we find our heroine Tammy Jo experiencing new problems. Oh yes, because there are many ones … Zach is back in town and is determined to recover her even if all that happened during his absence could change that. Bryn meanwhile remains determined to keep the young woman with him and to make her succumb by any manners. But while Tammy must choose between the two men in her life, a crucial choice indeed, other events will intervene completely upsetting her daily life. It seems that an invisible skeletal creature monitors her, a fae is trying to get something from her by all means and a young woman comes to her door asking her to be her friend. Evangeline is an unstable person who made ​​several psychiatric stays but still nice and innocent in all circumstances. She is fragile but strong at the same time and she remains determined in her choice whatever the others might try to say. This is an enigmatic young person and I'm sure we'll see her soon in the rest of the story. Even Tammy Jo falls under her spell and decides to help her escape her family as she is saying that they want to kill her. But by that, she does not know in what she will embark. While Vangie mysteriously disappears, it seems that her history is far more important than they could have expected and we could in this way learn even more about Edie and her death.
Tammy is changing significantly over novels. Her fae side appears more clearly and she fears that Bryn or Zach will abandon her because of it. It was however very interesting to see the two sides of the young woman as well as her limits in extreme conditions. Moreover, whatever she does, she is always accompanied by people who are close to her and hope to keep her alive as long as possible. Things get quite complicated when we see the situations in which she ends up. She will have to finally choose the man she wants to stay with and it's true that I fully agree with her choice. I am also curious to see more of their relationship in the next book.
In terms of the plot, I thought it was well put together but it's true that some choices of the author seem pretty well found but some were some quite surreal even though it does not really pose a problem here. However, it is true that I am a little anxious for the future because I am afraid that all will be a little too much but it remains to be seen. In any case I had a great time with this novel and I am looking forward to read more because the end announces us major events in the next volume. This is a nice set mixing magic, fae, vampires, all accompanied by a good touch of humor.