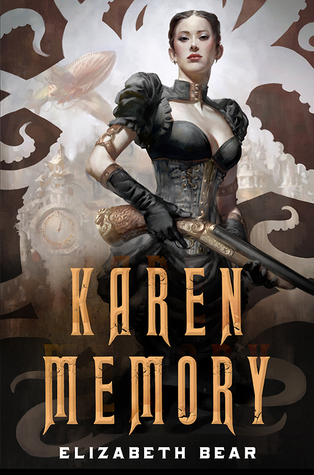 Synopsis: You ain't gonna like what I have to tell you, but I'm gonna tell you anyway. See, my name is Karen Memery, like memory only spelt with an e, and I'm one of the girls what works in the Hôtel Mon Cherie on Amity Street. Hôtel has a little hat over the o like that. It's French, so Beatrice tells me."

Set in the late 19th century—when the city we now call Seattle Underground was the whole town (and still on the surface), when airships plied the trade routes, would-be gold miners were heading to the gold fields of Alaska, and steam-powered mechanicals stalked the waterfront, Karen is a young woman on her own, is making the best of her orphaned state by working in Madame Damnable's high-quality bordello. Through Karen's eyes we get to know the other girls in the house—a resourceful group—and the poor and the powerful of the town. Trouble erupts one night when a badly injured girl arrives at their door, begging sanctuary, followed by the man who holds her indenture, and who has a machine that can take over anyone's mind and control their actions.  And as if that wasn't bad enough, the next night brings a body dumped in their rubbish heap—a streetwalker who has been brutally murdered.
Review: After seeing a lot of very good reviews for this novel, I was very curious to dive myself in the history. I must say that Bear presents a very original story that takes us into the shallows of Seattle. Here, we have no real knight in white armor, but a story featuring courtesans, terrible pimps and an investigation by a man traveling all around the world.
I was quite surprised by the novel, it does not follow the tracks usually found. No, our heroine doesn't begin a love affair with the officer she is helping. In fact, she starts a story with a girl she saves and takes under her wing. Yet their story is rather clumsy, and advances slowly, with a little something that evolves over the novel. I may have been carried away a little less by this relationship, but I still found it very touching.
Karen is a young woman who has gone through many trials. She does not go into the details of her work, but we see all what she had endured, the knit group of the girls who work together as a family. It was touching to see that they were actually a real family and remain desperate to help whatever happens. Besides Karen is herself determined to help this young Indian, Priya, who came seeking for a sanctuary in their hotel. Unfortunately her arrival brings many new problems that will only amplify. All this put Karen in the midst of danger and an investigation on a device that seems to be able to manipulate the minds and actions of each person. Alas, you can imagine that this machine should not end in the hands of a bad person.
It was a different and interesting novel. Our heroine is a very interesting character to explore and to see evolving. She is quite shy and yet does not hesitate to take action when necessary. She has dreams she wants to realize and we wish her to be so. We can easily get touched by her as we discover her more and more in the chapters. A novel worth reading it.