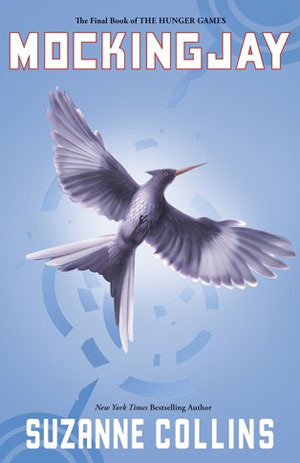 The Hunger Games, Book 3
Synopsis: My name is Katniss Everdeen.
Why am I not dead?
I should be dead.

Katniss Everdeen, girl on fire, has survived, even though her home has been destroyed. Gale has escaped. Katniss's family is safe. Peeta has been captured by the Capitol. District 13 really does exist. There are rebels. There are new leaders. A revolution is unfolding.

It is by design that Katniss was rescued from the arena in the cruel and haunting Quarter Quell, and it is by design that she has long been part of the revolution without knowing it. District 13 has come out of the shadows and is plotting to overthrow the Capitol. Everyone, it seems, has had a hand in the carefully laid plans–except Katniss.

The success of the rebellion hinges on Katniss's willingness to be a pawn, to accept responsibility for countless lives, and to change the course of the future of Panem. To do this, she must put aside her feelings of anger and distrust. She must become the rebels' Mockingjay–no matter what the personal cost.
Review: And here is the final book in the series. I was curious to see how the adventures of our beloved Katniss were going to finish and especially how the rebellion would unfold.
Our heroine is recovering from her return to District 13 after her rescue. Gale and her family are there for her to try to get her back on feet. But Katniss must make a decision quickly and choose whether to be a symbol of the uprising or not. I must say that I was quite surprised to see her hesitation and her complaints, she was so determined and decided on her choices. We often want to shake her so she can become aware that she is not alone and that many people rely on her. But on front of the wall, she realizes she has no choice, especially when all districts expect a single word of her to act. Of course, we can also have some news about Peeta. I was curious to see what had happened to him and I must say that I was not really expecting that. It really hurt my heart to see the person he had become. But between Peeta and Gale, who to choose? This question remains throughout the book though we all know that she will choose in the end. It's sad to see how she always plays with the feelings of two young men without any problems. She becomes nasty and does not necessarily realize it. Yet the consequences are still there.
I loved the way the story was headed, war, plots, everything was very interesting. I was also glad to finally discover the District 13 after having heard so much about it in the second volume. And I must say that this place was as I had imagined it, even if a little stricter. We had not had much the opportunity to explore Gale and it was really interesting to do it here. He is a dedicated person to his cause and tries his best to help Katniss although sometimes she does not accept his decisions. Indeed, it's hard for her to get ahead in this world where she is now an emblem. She can not make decisions, doesn't know what she wants, but prefers to hide, to complain about her condition and to use those close to her. I did not expect to find this aspect of her personality. She realizes it sometimes but forgets quite soon about all this.
I was quite surprised at the end, I did not expect it to end it like that. It is quite sad and at the same time the story ends quite well. It is always difficult to finish a story such as this one, but I found that the ideas were good enough. It was certainly a good trilogy and I was glad I could learn the last words of the story.