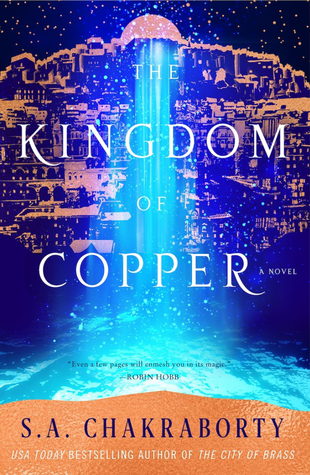 The Daevabad Trilogy, Book 2
Synopsis: Nahri's life changed forever the moment she accidentally summoned Dara, a formidable, mysterious djinn, during one of her schemes. Whisked from her home in Cairo, she was thrust into the dazzling royal court of Daevabad and quickly discovered she would need all her grifter instincts to survive there.

Now, with Daevabad entrenched in the dark aftermath of the battle that saw Dara slain at Prince Ali's hand, Nahri must forge a new path for herself, without the protection of the guardian who stole her heart or the counsel of the prince she considered a friend. But even as she embraces her heritage and the power it holds, she knows she's been trapped in a gilded cage, watched by a king who rules from the throne that once belonged to her family and one misstep will doom her tribe.

Meanwhile, Ali has been exiled for daring to defy his father. Hunted by assassins, adrift on the unforgiving copper sands of his ancestral land, he is forced to rely on the frightening abilities the marid-the unpredictable water spirits-have gifted him. But in doing so, he threatens to unearth a terrible secret his family has long kept buried.

And as a new century approaches and the djinn gather within Daevabad's towering brass walls for celebrations, a threat brews unseen in the desolate north. It's a force that would bring a storm of fire straight to the city's gates . . . and one that seeks the aid of a warrior trapped between worlds, torn between a violent duty he can never escape and a peace he fears he will never deserve.
Review: This is a novel that I was impatient to read! I loved the first volume and I was really curious to start it and I must say that I'm not disappointed!
In this novel we alternate different points of view while following each character. I loved discovering what would happen to Nahri and Ali after such an end. I can perfectly say that it is not simple for them: Ali is exiled far from his home, and the young woman must live in the castle guarded while leaving is forbidden. And then there is the new husband, she thinks that he will help her, but he remains very loyal to his father.
Nahri has really not an easy life and if she tries to adapt, it's a very complicated thing when she is so badly hurt. I was very sad to see how she was trapped, in this golden cage, while attending the errors of the king without being able to do anything. But now, the festivities are coming and they could bring back people she did not think to ever see again. Allies become enemies and vice versa, and Nahri will have to trust to try to free her people from this terrible reign. Yet none of this will be easy.
As I said, I loved following all the characters and seeing what will happen. It was once again a really exciting novel and I was very curious to discover what the author was going to propose to us. And then after this end? I'm really excited to discover the third volume! I hope it will arrive soon!