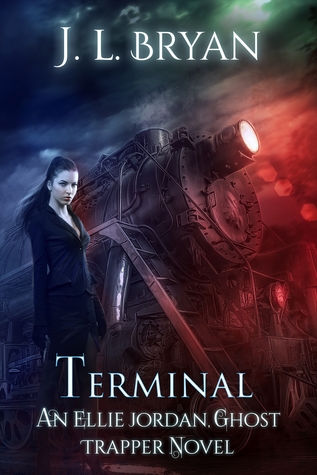 Ellie Jordan, Ghost Trapper, Book 4
Synopsis: Ellie Jordan and her apprentice Stacey investigate a house in an elaborate planned community that was only half-built before it went bankrupt, leaving an instant ghost town with only a few residents. The entity haunting this house is a banshee that feeds on sadness and misery.

Unfortunately for Ellie, this is no simple haunting, but just one symptom of the cursed land on which the suburban community was built. The old railroad line running through the nearby woods might just be a conduit for lost souls, including dark spirits with ill intentions toward the living. Ellie soon finds herself facing one of the most complex and difficult hauntings she's seen in her career.
Review: I always have a good time with the novels in this series and I was curious to discover another Ellie Jordan's adventure.
Our heroine is in a new investigation in a city that had been built with many ideas, but which, because of a bankruptcy, was abandoned. Our characters were called into a house where a pregnant woman and her husband live. But now, another entity has also taken up residence and cries every night in the cellar and brings a feeling of complete sadness and despair. Our heroes will have to understand not only what's going on, but much more than that… It seems that the whole city is haunted and their research will have to expand more than usual.
I really liked the plot and I was very curious to understand what had happened and how our characters would manage. They're going to have to deal with a lot of ghosts, some more complicated than others and the whole thing was really very interesting! I was wondering if we would see our dear firefighter again and I must admit that I am quite surprised by the turn of events. I'll need the rest to see what happens!
A good volume again!