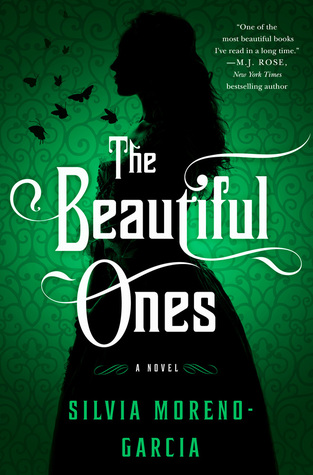 Synopsis: In a world of etiquette and polite masks, no one is who they seem to be.

Antonina Beaulieu is in the glittering city of Loisail for her first Grand Season, where she will attend balls and mingle among high society. Under the tutelage of the beautiful but cold Valérie Beaulieu, she hopes to find a suitable husband. However, the haphazard manifestations of Nina's telekinetic powers make her the subject of malicious gossip.

Yet dazzling telekinetic performer and outsider Hector Auvray sees Nina's powers as a gift, and he teaches her how to hone and control them. As they spend more and more time together, Nina falls in love and believes she's found the great romance that she's always dreamed of, but Hector's courtship of Nina is deceptive.

The Beautiful Ones is a sweeping fantasy of manners set in a world inspired by the Belle Époque.
Review: I was very curious to discover this novel when I heard about it but in the first reviews, several said that the story was not what they expected. It is true that if one expects a fantasy story, this is not the case here. I'd rather say it's a historical romance with some distant paranormal elements and I really loved it!
We discover Nina, a young country girl who returns to town to make her first season in society. Nina is not a girl like the others and she even possesses some small powers of telekinesis that she does not necessarily control. But when she meets with Hector Auvray, a famous man in this field, she knows that she must get to know him. While she falls under his spell, she does not expect this man to have a hidden plan. Nina is chaperoned by Valerie, the wife of her cousin. And Hector and Valerie have a story together … Younger, they were supposed to get married and even though Hector knows that nothing is possible between them, he can not help but to court Nina to see her former dear and tender fiancé.
I really enjoyed this story full of ideas. Nina is really very touching with her innocence and freshness. She is far from the model of a young woman that the society of the time produced and she does not care about that. She does not want to be someone other than the person she is already and Hector seems the perfect man for her. I was quite sad for her … She does everything to please Auvray without realizing that despite his attention, he always seeks Valerie. I sometimes wanted to slap Hector so he could realize his actions but nevertheless he will evolve little by little, realizing all that.
It was a pretty lively romance that carried me through the whole story. Between Valerie and her plots, Nina and her kindness and Hector, this man lost in his past, I was caught up by the story, waiting impatiently for the end to know how everything would end.