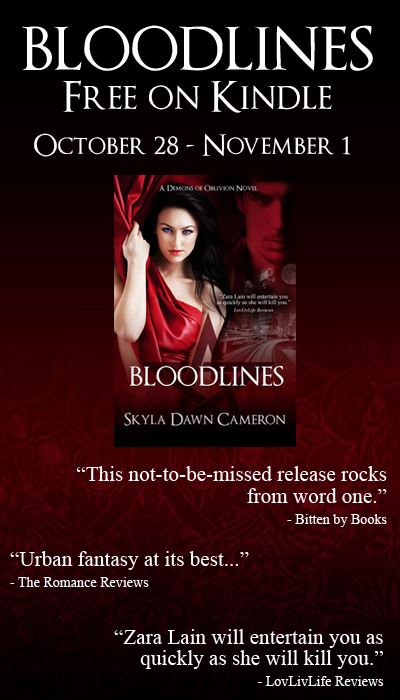 Demons of Oblivion, Book 2
Synopsis: Sometimes natural predators need to be kept in check, and for that, there's Ryann David. Orphaned as an infant and raised by an exiled branch of the church to become a warrior for God, she and her fellow members of Venatores Daemonum have trained all their lives with only one purpose: destroy all demons in the mortal realm.

But when Ryann and her team are sent to hunt down a vampire who has killed one of their own, a new world of danger, betrayal, and conspiracy greets her. Allied with an irreverent psychic detective and the very monsters she was raised to kill, Ryann will risk everything—her life, her faith, and her heart—in pursuit of the truth as the black and white existence she knew turns a murky shade of gray.
Review: I really liked Zara in the first volume and it's true that I was a little disappointed that she was not featured here this time. But just as I had loved her, I was a little afraid of not hanging much with Ryann, this new main character. That's why it took me a lot of time reading this second volume. But what a mistake! I'm really sorry it took so long because Ryann is a character that I loved and it was a very enjoyable read!
Ryann is a girl born to become a hunter in the church where she was raised. Her test was very difficult but she found finally a way to be what she wanted and she wants to show her high esteem to the one who taught her everything: Christian. However, after a strange event, including this man, our heroine finds herself embarked on a most important mission. One of them was killed and Zara Lain is responsible for this assassination. As she is an old and powerful vampire, they will form a team to track the woman down who seems to go unnoticed wherever she goes. But Ryann has a very special mission, she must work with Ellie as this boy can relive the murders or put himself in place of the killers. But this is not an easy task for this psychic and he must pass through moments of great pain when he puts his talents in contribution. This time these two persons will have to team up despite their differences, one as a hunter and the other as an aid to find the vampire in the city.
I loved this novel and I was pleasantly surprised to see Zara once more here. I admit that it's pretty sad to not know what happened to her between the first book and this one but then but I'm sure we'll come back to that later. She is not staged here and I really really enjoyed discovering Ryann. This is a young woman who has suffered many hardships in her life and yet she remains courageous in all circumstances. I must say that she is everything: stubborn, persistent, determined and very smart! It's really hard for her to follow the orders of her superiors without understanding the reasons and it is true that I liked her a lot for that. When all the others follow without asking questions, she dares go against rule if it is not normal for her. However, she doesn't try to have another life and I looked forward to see if she could see the flaws that appear gradually. She and Ellie are a beautiful duo. He is very different from her, far from any preconceived notions of the church, he upsets and tickles everyone and especially Ryann. It's pretty funny to see their reactions when they're together. A bond will also gradually appear between them and I was eager to see what it would give at the final. Together, they'll go through many trials. But it is true that the hardest part is for Ryann who will have put everything into doubt, her friends, her ideas, and her entire life.
To conclude, it was a very good second novel and I admit that I can not wait to see her again. Of course there will be a new character in the next novel too. Will I wait to start reading it? That is the big question. But in any case I recommend the first two novels as they are great to discover.


Links:
Bloodlines (FREE):
Hunter:
Lineage: