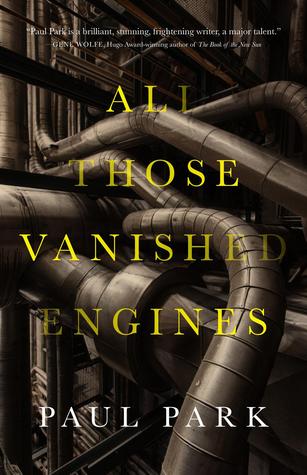 Synopsis: In All Those Vanished Engines, Paul Park returns to science fiction after a decade spent on the impressive four-volume A Princess of Roumania fantasy, with an extraordinary, intense, compressed SF novel in three parts, each set in its own alternate-history universe. The sections are all rooted in Virginia and the Battle of the Crater, and are also grounded in the real history of the Park family, from differing points of view. They are all gorgeously imaginative and carefully constructed, and reverberate richly with one another.

The first section is set in the aftermath of the Civil War, in a world in which the Queen of the North has negotiated a two-nation settlement. The second, taking place in northwestern Massachusetts, investigates a secret project during World War II, in a time somewhat like the present. The third is set in the near-future United States, with aliens from history.

The cumulative effect is awesome. There hasn't been a three part novel this ambitious in science fiction since Gene Wolfe's classic The Fifth Head of Cerberus.
Review: I was hesitant to start this novel and it is true that the reviews were very mixed and it made me anxious. But I think you always have to try a novel by yourself to see how the story really is. The synopsis is rather vague so it's pretty difficult to really know what will happen here.
I did not know Paul Park or his other series but it's true that even if the idea is really intriguing and interesting for its originality, I struggled to get into the story. From the first part, we have a double story mixed in one but it was all too confusing and I wasn't able to really understand what was happening. In the end, it's true that I got out of the story without being able to hang on the rest of the novel. I'm sure the author has managed to create something very different from what we would typically find but I just think the whole thing was not for me unfortunately. I think it would be better suited to someone else.