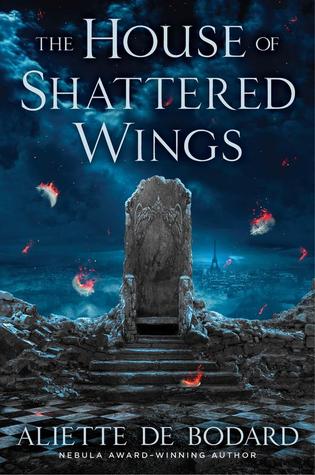 Synopsis: In the late Twentieth Century, the streets of Paris are lined with haunted ruins. The Great Magicians' War left a trail of devastation in its wake. The Grand Magasins have been reduced to piles of debris, Notre-Dame is a burnt-out shell, and the Seine has turned black with ashes and rubble and the remnants of the spells that tore the city apart. But those that survived still retain their irrepressible appetite for novelty and distraction, and The Great Houses still vie for dominion over France's once grand capital.

Once the most powerful and formidable, House Silverspires now lies in disarray. Its magic is ailing; its founder, Morningstar, has been missing for decades; and now something from the shadows stalks its people inside their very own walls.

Within the House, three very different people must come together: a naive but powerful Fallen angel; an alchemist with a self-destructive addiction; and a resentful young man wielding spells of unknown origin. They may be Silverspires' salvation—or the architects of its last, irreversible fall. And if Silverspires falls, so may the city itself.
Review: I have not read books about angels for a long time, so when I saw the release of this book, I was immediately curious about the story. The whole book set in France was also intriguing, especially when it remains the same throughout the novel. This is not something to which I am accustomed to, besides books from French authors but I was intrigued by the idea.
I spoke about angels, but actually we don't follow them but the fallen angels from paradise and who are forced to rebuild their lives in houses working the ones against the others in the heart of Paris. Besides, the city is not at all the one we know about. Oh no! We discover a completely devastated city whose inhabitants are trying to survive somehow. The human / angels cohabitation is not necessarily easy, especially since it is possible to make a fairly popular drug from the blood and bones of our fantastic creatures. You understand now a little part of the history. From there, we will follow three different characters: Isabelle, a young angel who has just arrived on Earth after being fallen, a naive person and yet full of convictions. She will be linked to Philip, the perfect caricature of the anti-hero, a man who wanders on earth, an entity that is neither human nor fallen and who tries to find the meaning of his life and dreams only of returning where he came from, knowing that this is not possible. Finally we follow at the same time Madeleine, a young alchemist, working in the biggest house but who has a dark secret, being addict of angel essence, something that is completely forbidden.
Thus we follow our three heroes alternately, discovering their lives, their hopes but also their fears. We also discover a Paris far from the one we know about, full of different myths but with places that we all know. We discover a very interesting mythology elsewhere and whom we can learn more about in the chapters. As for the story itself, something is set in motion here and our heroes will have to join forces to deal with it, although nothing will really end well. It was interesting to understand everything and to see where the story was going to lead us but I admit that I struggled to get into the book and to really create a link with the characters. We can read the story fast enough but I stayed a little behind compared to the whole history.
It was a different book and although I had some problems with the story, it was interesting to discover the author's ideas.