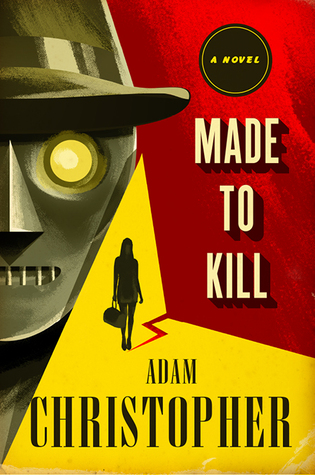 The L.A. Trilogy, Book 1
Synopsis: It was just another Tuesday morning when she walked into the office–young, as I suspected they all might be, another dark brunette with some assistance and enough eye black to match up to Cleopatra. And who am I? I'm Ray, the world's last robot, famed and feared in equal measure, which suits me just fine–after all, the last place you'd expect to find Hollywood's best hit man is in the plain light of day.

Raymond Electromatic is good at his job, as good as he ever was at being a true Private Investigator, the lone employee of the Electromatic Detective Agency–except for Ada, office gal and super-computer, the constant voice in Ray's inner ear. Ray might have taken up a new line of work, but money is money, after all, and he was programmed to make a profit. Besides, with his twenty-four-hour memory-tape limits, he sure can keep a secret.

When a familiar-looking woman arrives at the agency wanting to hire Ray to find a missing movie star, he's inclined to tell her to take a hike. But she had the cold hard cash, a demand for total anonymity, and tendency to vanish on her own.

Plunged into a glittering world of fame, fortune, and secrecy, Ray uncovers a sinister plot that goes much deeper than the silver screen–and this robot is at the wrong place, at the wrong time.
Review: I'm not a big fan of robots and usually it's true that I avoid most of the books incorporating them. But this time, I admit that I was intrigued by the synopsis. It must be said that this is not necessarily something hard science fiction, but rather a story that could just as well have staged a very different character. Moreover, the fact that it is a robot brings a big twist here. Yes, it is a strong point of the story with a different atmosphere, Hollywood stars, a survey, a hitman, many elements that intrigue us and keep us in suspense throughout the story .
Ray is the last remaining robot on the planet, one that was designed to be as close to humans but he is also controlled by a super computer that handles the program and recover his memory every night. This is also that super computer that has decided that their private detective company would be more successful if they turned into a hit man business. Besides for that, she altered the general behavior of the robot so he does not develop a conscience. But then, a strange new case comes their way, a young woman looking like Cleopatra hires him to track down and eliminate a movie star. At stake: Many gold bars … strange thing. But money entices particular, especially for such a sum and this is how Ray will end up plunging into a more complex story. Yes, it is a novel combining movie stars, CIA, double agents, Russian agents, nuclear, and a much more intense plot than we would have suspected.
It was a very interesting novel, based on the investigation, although we have a little light science fiction aspect to the rear of the story, I think it is fairly well handled. I must say that I did not expect at all to such a disclosure at the end of history. It was interesting to have different aspects that are not usually found in books, and it is true that we are curious to understand what exactly is going on between all the events.
I found that the author had some really original ideas with this story and, we find ourselves embedded in a global amplitude history. I'm still trying to decide on the supercomputer and her impact on Ray, especially when we know that she gives him his memories every day and can alter everything she wants to.
In short you will understand, I had a good time with the story and I'm curious to find out what the author will present now.