Stacking the Shelves is a meme hosted by Tynga's Reviews
The Romanov Sisters: The Lost Lives of the Daughters of Nicholas and Alexandra
They were the Princess Dianas of their day—perhaps the most photographed and talked about young royals of the early twentieth century. The four captivating Russian Grand Duchesses—Olga, Tatiana, Maria and Anastasia Romanov—were much admired for their happy dispositions, their looks, the clothes they wore and their privileged lifestyle.
Over the years, the story of the four Romanov sisters and their tragic end in a basement at Ekaterinburg in 1918 has clouded our view of them, leading to a mass of sentimental and idealized hagiography. With this treasure trove of diaries and letters from the grand duchesses to their friends and family, we learn that they were intelligent, sensitive and perceptive witnesses to the dark turmoil within their immediate family and the ominous approach of the Russian Revolution, the nightmare that would sweep their world away, and them along with it.
The Romanov Sisters sets out to capture the joy as well as the insecurities and poignancy of those young lives against the backdrop of the dying days of late Imperial Russia, World War I and the Russian Revolution. Rappaort aims to present a new and challenging take on the story, drawing extensively on previously unseen or unpublished letters, diaries and archival sources, as well as private collections. It is a book that will surprise people, even aficionados
Merci à l'adorable Nyx :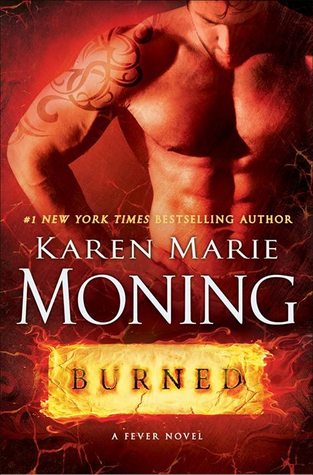 Burned (Fever, 7) – Karen Marie Moning
It's easy to walk away from lies. Power is another thing.
MacKayla Lane would do anything to save the home she loves. A gifted sidhe-seer, she's already fought and defeated the deadly Sinsar Dubh—an ancient book of terrible evil—yet its hold on her has never been stronger.
When the wall that protected humans from the seductive, insatiable Fae was destroyed on Halloween, long-imprisoned immortals ravaged the planet. Now Dublin is a war zone with factions battling for control. As the city heats up and the ice left by the Hoar Frost King melts, tempers flare, passions run red-hot, and dangerous lines get crossed.
Seelie and Unseelie vie for power against nine ancient immortals who have governed Dublin for millennia; a rival band of sidhe-seers invades the city, determined to claim it for their own; Mac's former protégé and best friend, Dani "Mega" O'Malley, is now her fierce enemy; and even more urgent, Highland druid Christian MacKeltar has been captured by the Crimson Hag and is being driven deeper into Unseelie madness with each passing day. The only one Mac can depend on is the powerful, dangerous immortal Jericho Barrons, but even their fiery bond is tested by betrayal.
It's a world where staying alive is a constant struggle, the line between good and evil gets blurred, and every alliance comes at a price. In an epic battle against dark forces, Mac must decide who she can trust, and what her survival is ultimately worth.