Stacking the Shelves is a meme hosted by Tynga's Reviews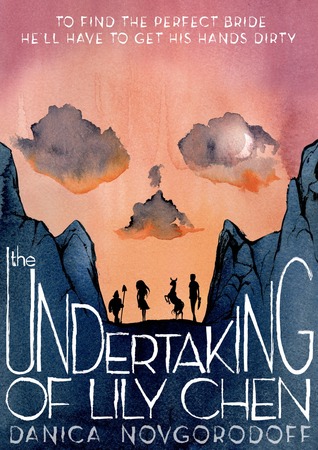 The Undertaking of Lily Chen by Danica Novgorodoff
In the mountains of Northern China ancient custom demands that every man have a wife to keep him company in the afterlife.
Deshi Li's brother is dead—and unmarried. Which means that Deshi must find him an eligible body before the week is up.
Lily Chen, sweet as a snakebite, needs money and a fast ride out of town.
Haunted by the gods of their ancestors and the expectations of the new world, Deshi and Lily embark on a journey with two very different destinations in mind.
They travel through a land where the ground is hard and the graves are shallow, where marriage can be murder and where Lily Chen is wanted—dead and alive.
La Proie du Papillon – Stephane Soutoul
« Quand une femme frappe dans le cœur d'une autre, elle manque rarement de trouver l'endroit sensible, et la blessure est incurable. »
Pierre CHODERLOS DE LACLOS
Sulfureux. Indécents. Mortels…
Avez-vous déjà entendu parler des Fils d'Éros ? On prétend à mi-voix que ces professionnels de la séduction joueraient avec les sentiments et bouleverseraient la vie de leurs victimes.
Judith de Ringis est une femme d'affaires aussi douée qu'impitoyable. Pour se débarrasser d'une concurrente gênante, elle requiert les services de l'un de ces mercenaires. Marco, dit le Papillon, s'engage à briser sa proie.
Cependant, manipuler les choses de l'amour n'est jamais simple, surtout quand les plus redoutables prédateurs se révèlent, eux aussi, capables d'émotions…
Merci à l'adorable Céline :
Archer's Voice – Mia Sheridan
When Bree Prescott arrives in the sleepy, lakeside town of Pelion, Maine, she hopes against hope that this is the place where she will finally find the peace she so desperately seeks. On her first day there, her life collides with Archer Hale, an isolated man who holds a secret agony of his own. A man no one else sees.
Archer's Voice is the story of a woman chained to the memory of one horrifying night and the man whose love is the key to her freedom. It is the story of a silent man who lives with an excruciating wound and the woman who helps him find his voice. It is the story of suffering, fate, and the transformative power of love.
THIS IS A STANDALONE SIGN OF LOVE NOVEL, INSPIRED BY SAGITTARIUS. New Adult Contemporary Romance: Due to strong language and sexual content, this book is not intended for readers under the age of 18.