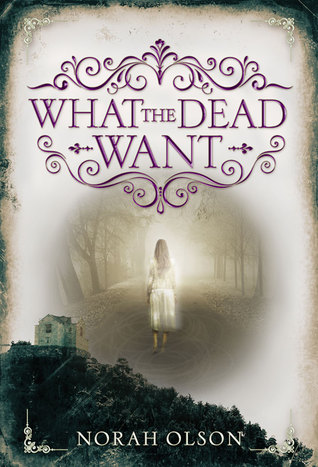 Synopsis: 16 -year-old Gretchen takes photographs to understand the world around her, a passion her mother Mona fostered and encouraged when she was still around. Since her mom disappeared years ago, Gretchen and her dad have lived on their own in New York City, haunted by Mona's absence.

When Gretchen's great aunt Esther calls unexpectedly to tell her that she has inherited the pre-Civil War mansion on her mother's side of the family in upstate New York, Gretchen understands nothing except that her aunt needs her help. But what she finds there is beyond her imagination. The house is crumbling apart, filled with stacks of papers and journals from decades, even centuries past, and it's crawling with rodents. It's also full of secrets and a legacy of racism and violence so reprehensible that the ghosts of the past are exacting revenge on the living.

Somehow the mystery of Mona's disappearance and the atrocities that happened on the land during the Civil War are inextricably intertwined, and it's up to Gretchen to figure out how…before even more lives are lost.
Review: When it comes to gothic romance and ghosts, I'm always up for that. I did not know this one but the summary and the cover were really appealing. I must say that the whole is quite intriguing, especially when it comes to photos, old houses and secrets.
By strange circumstances, Gretchen will be asked to visit her aunt she has never seen and who lives in a dilapidated old mansion. She thinks that she will help her move out knowing that she is the heiress of the house. Yet the girl really will not expect to face such events … and the first is none other than the death of one of her relatives. But from there, our heroine will understand that the house is home to many more things than she thought and many generations of her family tried to understand how they could free what is enclosed.
I really liked the format of the story, we go from one chapter to another between Gretchen and her story in the present but we also have the opportunity to read the diary of her great-grandmother, which is at the origin of all that. It is then in a history of racism, illiterate women, of Kux Klux Klan and terrible acts. I was really carried away by all the events and I also enjoyed the pictures that are found in the story even though I was a little disappointed not to have all of them in the non corrected version because I think they really bring a lot to the story.
I really enjoyed all the ideas of the author here because I confess I did not expect it at all. By cons I'm pretty disappointed by the end, I had to read it twice to see if I had not missed anything. It's too simple, too easy and way too fast after all that has happened before, and I was surprised and a little disappointed by that conclusion. But hey it was still a very good discovery.