Stacking the Shelves is a meme hosted by Tynga's Reviews
———————-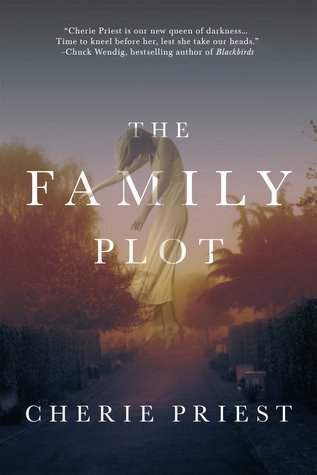 The Family Plot – Cherie Priest
The author of the enormously successful Boneshaker returns to Tor with her unique take on the classic haunted house book
Chuck Dutton built Music City Salvage with patience and expertise, stripping historic properties and reselling their bones. Inventory is running low, so he's thrilled when Augusta Withrow appears in his office offering salvage rights to her entire property. This could be a gold mine, so he assigns his daughter Dahlia to personally oversee the project.
The crew finds a handful of surprises right away. Firstly, the place is in unexpectedly good shape. And then there's the cemetery, about thirty fallen and overgrown graves dating to the early 1900s, Augusta insists that the cemetery is just a fake, a Halloween prank, so the city gives the go-ahead, the bulldozer revs up, and it turns up human remains. Augusta says she doesn't know whose body it is or how many others might be present and refuses to answer any more questions. Then she stops answering the phone.
But Dahlia's concerns about the corpse and Augusta's disappearance are overshadowed when she begins to realize that she and her crew are not alone, and they're not welcome at the Withrow estate. They have no idea how much danger they're in, but they're starting to get an idea. On the crew's third night in the house, a storm shuts down the only road to the property. The power goes out. Cell signals are iffy. There's nowhere to go and no one Dahlia can call for help, even if anyone would believe that she and her crew are being stalked by a murderous phantom. Something at the Withrow mansion is angry and lost, and this is its last chance to raise hell before the house is gone forever. And it seems to be seeking permanent company.
The Family Plot is a haunted house story for the ages-atmospheric, scary, and strange, with a modern gothic sensibility to keep it fresh and interesting-from Cherie Priest, a modern master of supernatural fiction.
Mr Mercedes (Bill Hodges Trilogy, 1)- Stephen King
Midwest, 2009. Dans l'aube glacée, des centaines de chômeurs en quête d'un job font la queue devant un salon de l'emploi. Soudain, une Mercedes fonce sur la foule, laissant huit morts et quinze blessés dans son sillage. Le chauffard, lui, a disparu dans la brume, sans laisser de traces. Un an plus tard, Bill Hodges, flic à la retraite qui n'a pas su résoudre l'affaire, reste obsédé par ce massacre. Une lettre du « tueur à la Mercedes » va le sortir de la dépression et de l'ennui qui le guettent.
Délaissant le fantastique pour le polar dans lequel il se glisse avec une jubilation contagieuse, Stephen King démontre une fois de plus son talent de conteur, et son inspecteur Bill Hodges rejoint les figures emblématiques du roman noir américain.