Stacking the Shelves is a meme hosted by Tynga's Reviews
The Turn (The Hollows, 1) – Kim Harrison
Kim Harrison returns to her beloved Hollows series with The Turn, the official prequel to the series that will introduce fans and readers to a whole new side of Rachel Morgan's world as they've never seen it before!
Can science save us when all else fails?
Trisk and her hated rival, Kalamack, have the same goal: save their species from extinction.
Death comes in the guise of hope when a genetically modified tomato created to feed the world combines with the government's new tactical virus, giving it an unexpected host and a mode of transport. Plague takes the world, giving the paranormal species an uncomfortable choice to stay hidden and allow humanity to die, or to show themselves in a bid to save them.
Under accusations of scientific misconduct, Trisk and Kal flee across a plague torn United States to convince leaders of the major paranormal species to save their supposedly weaker kin, but not everyone thinks humanity should be saved.
Kal surreptitiously works against her as Trisk fights the prejudices of two societies to prove that not only does humanity have something to offer, but that long-accepted beliefs against women, dark magic, and humanity itself can turn to understanding; that when people are at their worst that the best show their true strength, and that love can hold the world together as a new balance is found.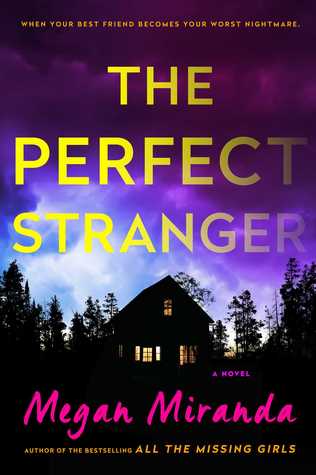 The Perfect Stranger – Megan Miranda
In the masterful follow-up to the runaway hit All the Missing Girls, a journalist sets out to find a missing friend, a friend who may never have existed at all.
Confronted by a restraining order and the threat of a lawsuit, failed journalist Leah Stevens needs to get out of Boston when she runs into an old friend, Emmy Grey, who has just left a troubled relationship. Emmy proposes they move to rural Pennsylvania, where Leah can get a teaching position and both women can start again. But their new start is threatened when a woman with an eerie resemblance to Leah is assaulted by the lake, and Emmy disappears days later.
Determined to find Emmy, Leah cooperates with Kyle Donovan, a handsome young police officer on the case. As they investigate her friend's life for clues, Leah begins to wonder: did she ever really know Emmy at all? With no friends, family, or a digital footprint, the police begin to suspect that there is no Emmy Grey. Soon Leah's credibility is at stake, and she is forced to revisit her past: the article that ruined her career. To save herself, Leah must uncover the truth about Emmy Grey—and along the way, confront her old demons, find out who she can really trust, and clear her own name.
Everyone in this rural Pennsylvanian town has something to hide—including Leah herself. How do you uncover the truth when you are busy hiding your own?
Miranda and Caliban – Jacqueline Carey
In William Shakespeare's The Tempest, the action of the entire play unfolds over the course of a single day. But what happened on the island in the twelve years leading up to that day? Why does the magician Prospero keep his daughter Miranda ignorant of her history? Why does he take the supposedly monstrous Caliban under his wing?
Miranda is a lonely child. For as long as she can remember, she and her father have lived in isolation in the abandoned Moorish palace. There are chickens and goats, and a terrible wailing spirit trapped in a pine tree, but the elusive wild boy who spies on her from the crumbling walls and leaves gifts on their doorstep is the isle's only other human inhabitant. There are other memories, too: vague, dream-like memories of another time and another place. There are questions that Miranda dare not ask her stern and controlling father, who guards his secrets with zealous care: Who am I? Where did I come from? The wild boy Caliban is a lonely child, too; an orphan left to fend for himself at an early age, all language lost to him. When Caliban is summoned and bound into captivity by Miranda's father as part of a grand experiment, he rages against his confinement; and yet he hungers for kindness and love. This darkly re-imagined vision of Shakespeare's beloved tale is told in their voices and is rife with issues of power and control, innocence and sexuality. Lovers of the fantastic, the classic, and beautiful writing will fall in love with Carey's imaginative retelling.
Games of Shadows – Erika Lewis
Ethan Makkai thought that seeing ghosts was the worst of his problems. Between his ethereal gift and life with a single mother hell-bent on watching his every move, he feels imprisoned. When Ethan sees a chance to escape, to leave the house by himself for the first time in his life, he seizes it, unaware that this first taste of freedom will cost him everything.
Ethan is thrown into a strange and eerie world, like nothing he's ever seen. He's assaulted by dive-bombing birds and rescued by a stranger who claims to be his bodyguard. His apartment is trashed, and his mother is kidnapped to a place Ethan never knew existed—a hidden continent called Tara.
Travelling to Tara in search of his mother, Ethan discovers that everything he knows about his life is a lie. His mother is royalty. His father is not dead. His destiny is likely to get him killed.
Confronted by a vicious sorcerer determined to destroy the Makkai family, Ethan must garner strength from his gift and embrace his destiny if he's going to save his mother and all the people of Tara, including the beautiful girl he's fallen for.