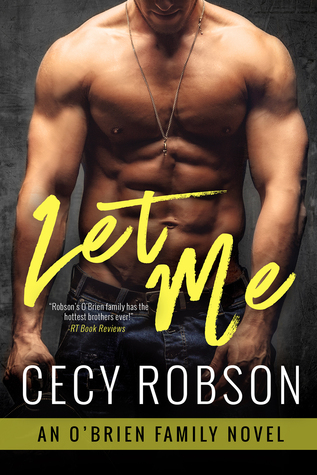 O'Brien Family, Book 2
Synopsis: Once he was broken beyond repair. Now this MMA contender is fighting to be a better man—for her. RT Book Reviews proclaims that the O'Brien Family series from award-winning author Cecy Robson "has the hottest brothers ever!" And in Let Me, it is Finn's turn to discover how love can heal the deepest wounds.

A mixed martial arts star on the rise, Finn O'Brien dismantles his opponents with brutal precision. And yet beneath his fierce persona, Finn is raw from a trauma he's buried for years . . . until the day his deep-rooted rage erupts and lands him in court-mandated therapy. Finn's not one to bare his soul, but if talking it out means meeting beautiful women like Sol Marieles, he'll give it a shot.

Sol is working toward her masters degree in psychology, and already she feels like she's in over her head. With an important internship on the line and a scary family situation demanding her attention, the last thing Sol needs is Finn around to distract her. The man is ripped and seriously sexy yet it's his troubled side that warns her to keep her distance. But their attraction is intense, and he clearly has the heat to see how far and fast their passion takes them.

Alone, Finn and Sol have been fighting to find happiness in their lives. Together, there's no stopping them as they face their greatest challenges—not in the ring, but in their hearts.
Review: I always have a great time with the novels by Cecy Robson and with the release of Crave Me, I realized that I hadn't read Let Me. How is this possible? I started it as soon as possible!
We follow one of the O'Brien's brothers here and it's Finn's turn to come on stage, accompanied by Sol, someone close to Theo. This is how we find all the characters we have discovered and it is a pleasure to know what they became. But back to our two main characters, two people broken by life … Finn had a trauma in his youth, something he still wears today and is impossible to forget. To get rid of his rage, fighting has become a loophole. Yet, lately, this is not enough anymore and after an incident, he is now obliged to follow a therapy. Thus he crosses the path of Sol. This young woman tries to get her master's degree in psychology to help her family. Indeed, her mother is sick and although father and daughter try to take care of her at home, the situation is getting worse and worse … So a story between her and Finn seems impossible, especially when he is known for going from one girl to another very quickly, and yet … An indescribable link is created between the two characters and even though our hero is determined to make Sol succumb, the latter is much more suspicious. It is important to say that their problems take an important place in their lives and they will have to move forward, make choices and perhaps even help each other to heal.
I really had a great time with this novel. It is very difficult to see everything our two characters have endured. We are nevertheless taken by the story, following the two characters and waiting to see their next actions. It was a really touching story and I was hoping that the two characters would find their happy ending. It will not be easy and they will have to work on themselves but it was a really touching sequel. Once again, Cecy Robson presents us with a very good book and I will now be able to get into Crave Me!