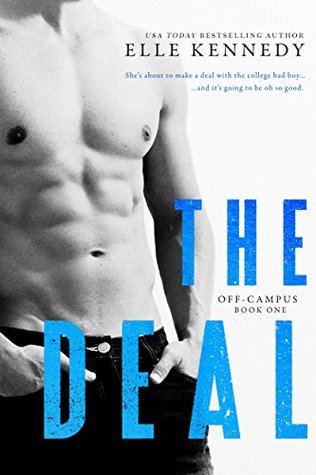 Off-Campus, Book 1
Synopsis: She's about to make a deal with the college bad boy…

Hannah Wells has finally found someone who turns her on. But while she might be confident in every other area of her life, she's carting around a full set of baggage when it comes to sex and seduction. If she wants to get her crush's attention, she'll have to step out of her comfort zone and make him take notice…even if it means tutoring the annoying, childish, cocky captain of the hockey team in exchange for a pretend date.

…and it's going to be oh so good

All Garrett Graham has ever wanted is to play professional hockey after graduation, but his plummeting GPA is threatening everything he's worked so hard for. If helping a sarcastic brunette make another guy jealous will help him secure his position on the team, he's all for it. But when one unexpected kiss leads to the wildest sex of both their lives, it doesn't take long for Garrett to realize that pretend isn't going to cut it. Now he just has to convince Hannah that the man she wants looks a lot like him.
Review: The first time I heard about the novel I confess that I was pretty dubious and I waited to see the reviews to find out how it was. I must say that I was very surprised to see all the praise and the release paperback copy (French) of this first volume gave me the opportunity to get into the story. I can tell you now that I really loved this first book and I can not wait to read more.
We learn from the beginning that Hannah was raped a few years ago and that is something that she never recovered from. Yet she tries to move on as best as she can, to show that she can enjoy life again. Justin, the boy of the class that attracts her could well be the extra step to allow her to be happy. But Hannah is not a girl to dredge and even if she hopes that Justin will notice her, it does not seem so simple. Garrett is the star of the Hockey team, he is popular, doesn't have a girlfriend but keeps having girls. However, he is failing his classes and if he does not do something quickly, he can forget Hockey. When he realizes that Hannah can help him, he goes after her so she can give him private lessons. But Hannah is stubborn and she really does not seem eager to help him in any way. But Garrett is even more stubborn and he will not stop until she agrees.
It was very funny to see their exchanges while a link finally appears between them little by little. The two characters are broken in their own way and even if they do not necessarily realize it, they can help each other, move forward and finally confide and heal. It is not simple, far from it but it is also really touching.
I had a great time with this story. It completely took me away and I loved following Hannah and Garrett. They are two extraordinary characters and we hope throughout the chapters that they will have their happy end. We also follow the evolution of Garrett in his sport but especially the progress of Hannah for her song preparation and for the performance she will soon realize.
As I said I really had a great time, I found the ideas and style of the author very well mastered and I am very eager to read more! It was a beautiful discovery!