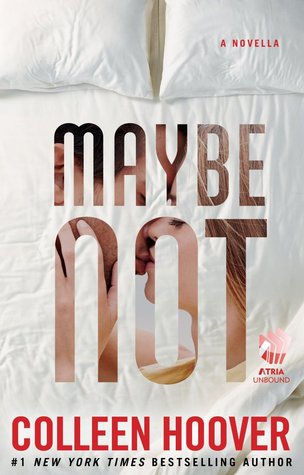 Maybe, Book 1.5
Synopsis: When Warren has the opportunity to live with a female roommate, he instantly agrees. It could be an exciting change.

Or maybe not.

Especially when that roommate is the cold and seemingly calculating Bridgette. Tensions run high and tempers flare as the two can hardly stand to be in the same room together. But Warren has a theory about Bridgette: anyone who can hate with that much passion should also have the capability to love with that much passion. And he wants to be the one to test this theory.

Will Bridgette find it in herself to warm her heart to Warren and finally learn to love?

Maybe.

Maybe not.
Review: I really liked Maybe Someday when it came out and it was intriguing to find the characters once more for a novella by the author. We follow this time Warren and Bridgette. We are witnessing elsewhere their first meeting and the arrival of Sidney (which is a real pleasure) in the end, even if she is very little present.
As I said, we witness the meeting of Warren and Bridgette which is quite complicated … And yet, despite the feelings they apparently have, something very hostile, something appears between them and changes quite fast. I confess that I had a little trouble to hang on the character of the girl in light of her actions and at the same time with all she has gone through, we understand that she had forged an armor to survive the world. Warren seems to be rather "the good friend", always ready to make jokes but when it comes to his roommate, he is very determined in his actions and when he learns that the latter had participated in a porn movie, I can not tell you his determination to find the one in question.
This is another nice read for fans of the first book and as I said, I was happy to see the characters again. And it's Colleen Hoover right? how to resist?