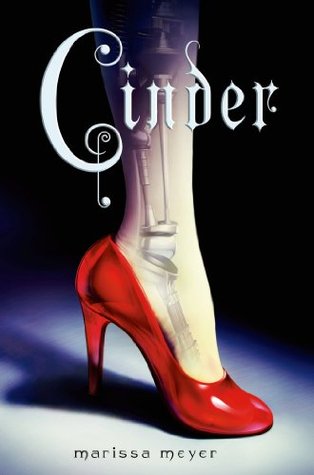 The Lunar Chronicles, Book 1
Synopsis: Humans and androids crowd the raucous streets of New Beijing. A deadly plague ravages the population. From space, a ruthless lunar people watch, waiting to make their move. No one knows that Earth's fate hinges on one girl.

Cinder, a gifted mechanic, is a cyborg. She's a second-class citizen with a mysterious past, reviled by her stepmother and blamed for her stepsister's illness. But when her life becomes intertwined with the handsome Prince Kai's, she suddenly finds herself at the center of an intergalactic struggle, and a forbidden attraction. Caught between duty and freedom, loyalty and betrayal, she must uncover secrets about her past in order to protect her world's future.
Review: I have seen countless wonderful reviews about this series and it's true that I succumbed and bought the first book to discover how it really was. I admit now that I fully understand the praise because I had a great time with the book. Maybe a little less than I thought though. In fact, I thought that this novel would blow me away but even if this is not the case, it does not diminish the great time I spent with it.
As you probably know it, this book is a retelling of Cinderella. Indeed, Cinder is a cyborg, a person that everyone avoids because of her peculiarity. She lives with her stepmother who hates her, as well as her half-sister, who never asked to be her guardian. Yet our heroine particularly likes her other half-sister who is always there for her and defends her when she can. Peony is indeed a sweet and naive girl but we appreciate her from our first meeting. But their lives will be turned upside down when the sister is found suffering from a fatal disease spreading throughout the kingdom. And while Cinder finds herself forced (by her stepmother and guardian) to volunteer to find a vaccine against this disease, she will meet the prince, a boy who turns the heart of all the girls. And while our young cyborg gradually falls under his spell, she knows that nothing is possible between them. But in addition to this, the tests on the girl make her aware of her true condition, meaning her past she did not know about as the dangers she is now incurring. It seems that the young woman is indeed far more valuable than anyone would have thought. But the arrival of the queen of the moon could change the security of the world in which she lived so far.
Cinder, as in the tale, really does not have an easy life and her family takes everything from her. Fortunately for her, two people are always there to help her, but these two people might not remain so close. An event will completely change her life and it could well be changing the lives of all those around her. While the author makes us understand gradually the true identity of our young Cyborg, it will take a little more time for her to know and accept the truth. Cinder has in any case a heart of gold and does not hesitate to do anything to help people in need. Kai is also a very interesting character to explore. He didn't have a very easy life, even if he is the heir to the kingdom. His father is dying and everyone expects him to find the miracle solution to the problem that hangs over their world. His meeting with Cinder will completely charm him but he will also have to wait to know the truth about the young woman.
I had a good time with the novel and I admit that the end has made me very curious to read more of the Cinder's adventures to discover how she will come to get out of the situation in which she finds herself. Of course, I am also very curious to see how the other stories are put forward subsequently. It was a nice discovery and I hope to know more soon!