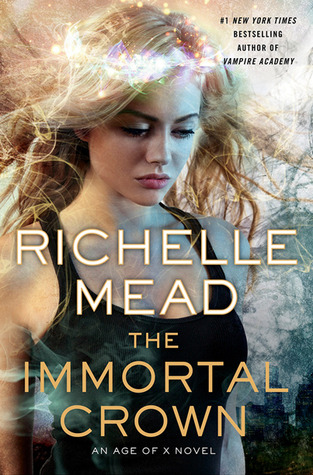 Age of X, Book 2
Synopsis: The #1 New York Times bestselling author of the Vampire Academy and Bloodline series returns with the second installment in her acclaimed Age of X series.

Gameboard of the Gods introduced religious investigator Justin March and Mae Koskinen, the beautiful supersoldier assigned to protect him. Together they have been charged with investigating reports of the supernatural and the return of the gods, both inside the Republic of United North America and out. With this highly classified knowledge comes a shocking revelation: Not only are the gods vying for human control, but the elect—special humans marked by the divine—are turning against one another in bloody fashion.

Their mission takes a new twist when they are assigned to a diplomatic delegation headed by Lucian Darling, Justin's old friend and rival, going into Arcadia, the RUNA's dangerous neighboring country. Here, in a society where women are commodities and religion is intertwined with government, Justin discovers powerful forces at work, even as he struggles to come to terms with his own reluctantly acquired deity.

Meanwhile, Mae—grudgingly posing as Justin's concubine—has a secret mission of her own: finding the illegitimate niece her family smuggled away years ago. But with Justin and Mae resisting the resurgence of the gods in Arcadia, a reporter's connection with someone close to Justin back home threatens to expose their mission—and with it the divine forces the government is determined to keep secret.
Review: I had a great time with the first volume and it is true that I was curious to read this second book and see how Justin and Mae would get by this time in their quest. I was a little afraid that the novel was not up to the level of the first one but it was not the case and I had a great time once again.
Mae and Justin continue their quest, always checking out the important religions in their state. Yet it seems that the gods themselves do not want to leave our two heroes alone and try everything to recruit them. While Justin manages above all to escape the fate that seems to shrink around him, Mae, while remaining vigilant, happens to be manipulated when her weakness is on the line, that is to say, her niece. Yes, because our heroine wants one thing and that is to find her family member exiled somewhere so long ago. Yet it seems that the girl is in Arcadia, a place far from RUNA where a really different policy occurs. But she feels really lucky when Lucien provides a diplomatic trip to this place and invites Justin to be part of it. But, Mae will have to use her charms to make Justin capitulate as he refuses from the outset this trip. Our hero knows that the young woman is hiding something, but I was quite surprised to see that he leaves her time to open herself and reveal the reason behind this trip.
Richelle Mead allows us, with this trip in Arcadia, to reveal a little more about her rich and complex world. We go in another environment where women are seen as a commodity and Mae will have to adapt to this culture, although it is very difficult for her. Yes because here men can have several wives and concubines, present only for their desire. If a man is attracted to a woman? It is only the fault of the woman as she is too beautiful. Finally you can imagine that this is something we abhor as a reader and we understand the resentment of the young woman in this context. However, Mae will have to quickly find a solution to recover her niece if she can first of all to determine where she is located.
I took great pleasure in reading this novel. We discover with this sequel a little more of the world that Richelle Mead has created as well as her characters. We realize more and more that the affairs of the Gods are very complicated and must be dealt in a delicate way. Despite the suspicion and knowledge of our two heroes, we realize that the gods are able to perfectly achieve what they want to and to manipulate everyone. It's pretty sad to see the consequences, yet when our duo manages to realize what is happening, it might be too late. From this fact, great things will happen throughout the story, allowing the characters to open to each other and I took a great pleasure in discovering everything. But in addition to this, we discover why Lucien is interested in the young woman and a revelation at the end of story will turn the story upside down (in fact, I wanted thank my friend Lexxie who helped me to remember some facts of the first volume that I had forgotten). But there aren't alone, and we also follow Tessa, who begins to study in RUNA. She will quickly understand that even at her level, people try to manipulate her to get information. Something that is ultimately also not really nice.
To conclude, the author presents us once again a very good novel with a well pace throughout the story. In addition, we have a large number of discoveries and revelations keeping the reader in suspense. I was really looking forward to finish the book and to discover what would happen and I am now looking forward to read more. If you like different worlds, characters with multiple secrets and complex plots, I'm sure you will like the novel. I hope you will be as fascinated as I am and that you'll take a great pleasure to in following our two heroes who are, as always, embarking on a quest that is far from easy.