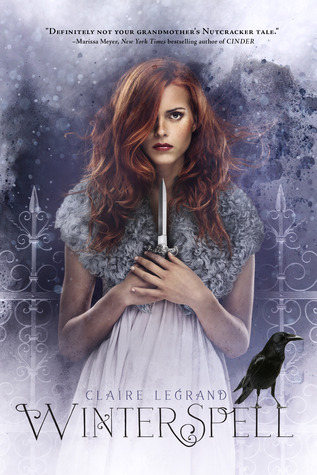 Synopsis: The clock chimes midnight, a curse breaks, and a girl meets a prince . . . but what follows is not all sweetness and sugarplums.

New York City, 1899. Clara Stole, the mayor's ever-proper daughter, leads a double life. Since her mother's murder, she has secretly trained in self-defense with the mysterious Drosselmeyer.

Then, on Christmas Eve, disaster strikes.

Her home is destroyed, her father abducted–by beings distinctly not human. To find him, Clara journeys to the war-ravaged land of Cane. Her only companion is the dethroned prince Nicholas, bound by a wicked curse. If they're to survive, Clara has no choice but to trust him, but his haunted eyes burn with secrets–and a need she can't define. With the dangerous, seductive faery queen Anise hunting them, Clara soon realizes she won't leave Cane unscathed–if she leaves at all.

Inspired by The Nutcracker, Winterspell is a dark, timeless fairy tale about love and war, longing and loneliness, and a girl who must learn to live without fear.
Review : I fell in love with the cover as soon as I saw it and the summary finally convinced me. Admittedly, with the chance to discover another world, the mention of the fairies and a period I always love to read about, I had high expectations for the story. I'm pretty sad at the end of the novel to say that the volume was not for me.
I really wanted to get into the story as soon as I started it and to love the characters, but it did not happen and even the contrary. I do not like to DNF a book even if I was tempted to do that more than once. I hoped that at a certain point I would be swept away by it all and forget my problems but then again it did not happen. Yet the book is almost 500 pages, which is quite huge. But I'll tell you a little more about the problems I had afterwards. I have to say that I do not know anything about The Nutcracker and I still don't know about it, so I could not really make comparisons with that.
I would first like to tell you a little more about the world. I think Claire Legrand has managed to create something beautiful and really intriguing. Indeed, here we have our world existing in parallel with a more fantastical one where fairies, dragons and other creatures coexist somehow and where magic is everywhere. It was fascinating to see it all, to see how the author would link everything and it was very well done. The different characters and capacities were interesting to watch and I was curious to see how it would unfold.
Now turn to the things that annoyed me … oh yes because the story is really really weird. I did not expect that at all. I confess I did not expect so many sexual connotations for a YA book … Because the history suggests pedophiles, rape, relationships between women (I'm really not against that, but the way it was done was weird, mainly when one hits the other), ambiguous relations and even one with a statue and all is done with the same person. Everything seems to start on this aspect with our heroine and I admit that it bothered me because I only see that in the end. I was not really able to hold on to her character or even to the others, and while I was curious to see how it would end, I think everything has really blocked me. Long time I did not have such a problem with a book but I think this book really was not for me.