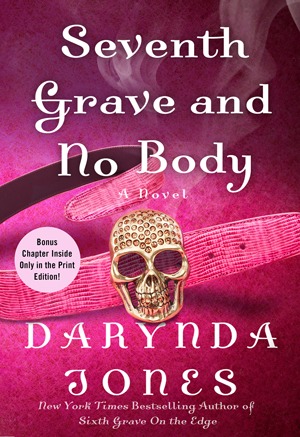 Charley Davidson, Book 7
Synopsis: Twelve. Twelve of the deadliest beasts ever forged in the fires of hell have escaped onto our plane, and they want nothing more than to rip out the jugular of Charley Davidson and serve her lifeless, mangled body to Satan for dinner. So there's that. But Charley has more on her plate than a mob of testy hellhounds. For one thing, her father has disappeared, and the more she retraces his last steps, the more she learns he was conducting an investigation of his own, one that has Charley questioning everything she's ever known about him. Add to that an ex-BFF who is haunting her night and day, a rash of suicides that has authorities baffled, and a drop-dead sexy fiancé who has attracted the attentions of a local celebrity, and Charley is not having the best week of her life.

A tad north of hell, a hop, skip, and a jump past the realm of eternity, is a little place called Earth, and Charley Davidson, grim reaper extraordinaire, is determined to do everything in her power to protect it.

We're doomed.
Review: I was so eager to start this new Charley Davidson adventure. I always look forward to each new volume and I was more than delighted to finally get my hands on it. I admit that before starting the story, I'm always a little anxious to be disappointed, not knowing where the author would lead us this time. But what a mistake! We must never doubt Darynda Jones, she has a fabulous talent and it was a treat to discover this novel as always. I find it hard to realize that we are already in the seventh volume … Yes! 7 already! And they are all as good as the previous ones and I hope we'll still have many more.
So we meet again our dear Charley who will have many things to do with all the things that fall on her throughout the novel. Oh yeah! In addition to the investigations with Agent Carlson, she must also take care of Jessica who seems to want to make her life a living hell by constantly complaining about her condition, bodies disappear in cemeteries, disappearances occurr under the same conditions, the hellhounds are on her trail, she must manage a lack of caffeine and Charley must also take into account Beep. Who is Beep? This is the name that she has decided to give to the child that she is bearing and I must tell you that it makes some pretty funny situations (well, as soon as she named something, the situations quickly become funny). It's pretty interesting to see how she is changing because of the child, to see that she is already concerned about the mother she will be, she is afraid of not being up to that in fact. It must be said that she decides to start with a goldfish, thinking that if she can keep it alive, then it would be a good step forward to an unborn baby. Yet it is not her condition that will prevent our heroine to get into dangerous situations! Oh no, and I can tell you that Reyes does not enjoy this situation at all! Because he is determined to protect her at all times. Yet it is without thinking about the determination of Charley to confront events alone. I really loved seeing them both arguing about it, and even if we know as much as our heroine that Reyes is right, this does not prevent her from doing it again. But Charley would not be Charley without her determination and lack of consideration of the danger or her desire to upset Reyes.
We learn a lot about our reaper in this novel and I admit that I was surprised more than once. I did not expect that the author would lead us in that direction, but what a great idea! We thus discover more about her history, status and even her powers. She manages to make unimaginable things and I loved to learn more about what she was capable of. Of course, it's also the only one who is good at getting into completely catastrophic situations. But it's also why we love our Charley, she does not hesitate to do anything to protect those in need. This young woman has a heart of gold! I must say that this is one of the things that Reyes has troubles understanding sometimes. I was pretty sad to see what he really thought in relation to his position towards Charley. I would not have really thought it possible, but it is even more emphasized at the end of the story in the chapter from his point of view. We realize in this novel about the challenges he has to live with as best as he can every days. Yet it was touching to see that he was able to share his problems with Charley for her to understand what was going on (and so she doesn't imagine things, yes because she is also very good at that).
I was quite surprised but we also learn a lot about the new demon that we have met in the previous volume, Osh, who will be much more prevalent throughout the story than I thought. I love the character and it was a treat to see him so much here. We suspect that he has a hidden agenda, but I'm curious to see what it is exactly.
I have something else to add. It's true we expect a little bit such an end, but it is also true that the whole thing was very moving and I did not expect that conclusion. A rather sad end but one opening up many other ways for the following novels. I am also more than impatient for the release of the next volume (yes again! It really is a vicious circle! It's hellish, we always want more!). But in any case you'll understand that I was completely conquered and I am delighted with this novel. The author has once again proposed a novel at the height of her talent. I can only advise you to dive into the series if you have not yet tried it. I'm sure you will love it and you will fall in love with all the characters, including Charley and Reyes!


Excerpt:
As Cookie and Gemma planned my wedding, a job I did not envy in the least, I watched Reyes. I tried to single out his emotions, but there was so much blisteringly raw lust in the room, I couldn't get past it all. Damn him and his sexual tractor beam.
A giggle floated toward me, and I saw the woman's head tilt back again. Clearly, Reyes was slapping on the charm, but why? Was this about an interview? He'd been asked a dozen times for one and never gave any of the other reporters the time of day. Even 60 Minutes had wanted to do a story on him and got the door slammed in their face. But this woman came in, pinned him with a glittering smile, and he caved?
That was not like Reyes.
"I need a pretzel," I said, ignoring my food.
Before any of them could say anything, I rose and walked to the bar, which put me a few precious feet closer to the happy couple. If he were ever to break up with me, I would so be that stalker ex- girlfriend who stole his underwear and hid in the hedges outside his bedroom window. But finally I had a clear path and could read Reyes's emotions. Only I still couldn't feel him.
He was blocking me!
—————
Buy Links:

a Rafflecopter giveaway