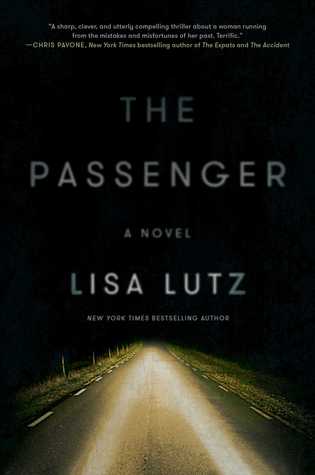 Synopsis: In case you were wondering, I didn't do it. I didn't have anything to do with Frank's death. I don't have an alibi, so you'll have to take my word for it…

Forty-eight hours after leaving her husband's body at the base of the stairs, Tanya Dubois cashes in her credit cards, dyes her hair brown, demands a new name from a shadowy voice over the phone, and flees town. It's not the first time.

She meets Blue, a female bartender who recognizes the hunted look in a fugitive's eyes and offers her a place to stay. With dwindling choices, Tanya-now-Amelia accepts. An uneasy―and dangerous―alliance is born.

It's almost impossible to live off the grid today, but Amelia-now-Debra and Blue have the courage, the ingenuity, and the desperation, to try. Hopscotching from city to city, Debra especially is chased by a very dark secret…can she outrun her past?

With heart-stopping escapes and devious deceptions, The Passenger is an amazing psychological thriller about defining yourself while you pursue your path to survival. One thing is certain: the ride will leave you breathless.
Review: Lisa Lutz is a writer that I really like. I initially discovered her humorous books with the Spellman series and different genres which are much more serious lately. But whatever she can write, I always take great pleasure in reading her stories and I was, once again, won by The Passenger.
This book highlights some themes that I don't usually find in my many other readings: running away and identity change and of course with all their consequences. It is in this context that we discover Tanya, a young woman on the run after discovering the body of her husband down the stairs, dead while she was upstairs in their house. But now, the young woman has no alibi, and she can not afford for the police to dig into her past for fear of discovering her terrible secret.
By beginning history, we do not really understand why the young woman fled and why she did not confront the police who should, with good explanations, understand this strange death. No, Tanya runs away and changes her identity by contacting someone from her past who might harm her. From there, the young woman will go from town to town, constantly changing her name, allying herself for a while with a woman who does not necessarily have the same ideas as hers and who guesses that she's hiding something, a woman who will infiltrate her life and force her to act even when she does not desire it. I loved how our heroine managed to change names, to start a new life and to disappear to start again. I do not and I do not think that it is as simple as it is presented but it was interesting to see how it was featured. Of course, we also try to understand throughout the chapters what Tanya is trying to run from, the reason behind these events and even if we find emails sent between her and a person from her past, it is very difficult to really understand the truth before the last chapters. We understand perfectly that something very serious happened, but is she responsible? Why does she attack the man she speaks with and to whom yet she has feelings for?
This is something very complex that we find here and the revelations are numerous, all her past hides many secrets and even certain she did not expect to discover and neither do we at the same time. The only thing that makes me doubt remains perhaps about the consequences of her situation, or at least the apparent lack of complications compared to everything she has gone through in the legal matter as the identity theft, and other crimes. Did the author decide to keep them out of her history? Is Tanya not punished for what happened? Did her past innocent her once revealed? I admit that these are some points that intrigued me, to know if it is so easily possible to override such actions.
But in any case I had a great time with the story and I was completely carried away by all the events. A new great novel from the author to read now!