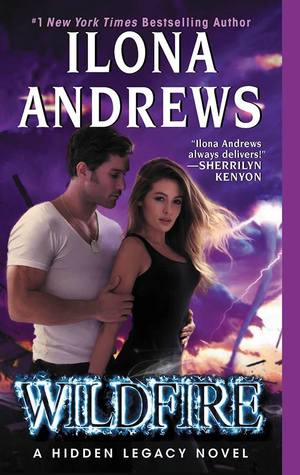 Hidden Legacy, Book 3
Synopsis: Just when Nevada Baylor has finally come to accept the depths of her magical powers, she also realizes she's fallen in love. Connor "Mad" Rogan is in many ways her equal when it comes to magic, but she's completely out of her elements when it comes to her feelings for him. To make matters more complicated, an old flame comes back into Rogan's life…

Rogan knows there's nothing between him and his ex-fiance, Rynda Sherwood. But as Nevada begins to learn more about her past, her power, and her potential future, he knows she will be faced with choices she never dreamed of and the promise of a life spent without him.

As Nevada and Rogan race to discover the whereabouts of Rynda's kidnapped husband and are forced to confront Nevada's grandmother, who may or may not have evil motives, these two people must decide if they can trust in each other or allow everything to go up in smoke.
Review: I waited with great impatience to read this third volume and I confess that I was once again carried away! I must say that the Ilona Andrews couple still manages to present extraordinary stories and this is no exception with this one!
We return to the story quickly after the end of the second volume and we find Nevada in the grip of new problems. Rynda comes to her house and asks for help to find her husband who seems to have been kidnapped. It is not simple, especially when we know that having her in the area also means seeing her parading around Rogan. Trying to manage this investigation and her feelings, Nevada will also have to face the attacks of her grandmother who is determined to recover her, as well as her appointment as a House.
I really loved this novel! There's a lot of stuff going on, and it's true that I was curious to see how Nevada was going to make it. The investigation of Rynda's husband will allow us to discover new characters and to see once again the difficult reality of the Houses. Fortunately for her, Rogan will of course always be there to help her. I suspected pretty quickly what was going on but it was very nice to see how the plot unfolded. I was also curious to see the events in relation to the grandmother of Nevada and it must be said that nothing will be very simple on this side. And then there is the relationship between Rogan and the young woman. I confess that it was touching to see them together, to witness their hesitations and see them advance.
As I said, I had a great time with the story. The characters are captivating, the plot is gripping and we can only desire more. The author had first announced that the series would present itself in the form of a trilogy but I confess that in reading the end I wondered if it was still relevant. The end concludes the story quite well it is true but there is still a lot of potential especially when we do not know the identity of the great villain. Yes, for me who does not like open ends, not knowing is catastrophic! I need a name! I was glad to finally see the authors announce that depending on sales there might be more novels at Avon or they were even willing to self-publish. What more can I ask for? I was thrilled !
So now I look forward to new information and in the meantime I can only advise you to get started because I can assure you that you will not be disappointed!