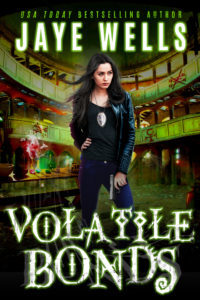 Prospero's War, Book 4
Synopsis: When the Magic Enforcement Agency is called out to the scene of a dirty magic explosion, a body with a bullet wound is found in the smoldering ruins. As Detective Kate Prospero and her partner, Special Agent Drew Morales, hunt down the killer, they uncover evidence that a dangerous new coven may be operating in the Cauldron.

It's not long before the bodies start piling up, and the heat is on for the team to make an arrest. Solving the murders will require unraveling dangerous alliances between the city's dirty magic covens. And if they're not careful, the new complexities of Morales and Prospero's own partnership threaten to make a volatile situation downright deadly.
Review: Since the release of the third volume, the author had left this series on the side. Finally, she took it in hand to propose us a new fourth volume and I confess that I was eager to read it!
So we find our heroine, as well as Morales on a new investigation. Aphrodite's nephew died, shot and then burned by an explosion in one of the magic laboratories. Although Kate is against the idea of ​​taking the case, she does not really have a choice. This affair will once again put them in danger when they face a new group in town: dangerous people that would not be against bringing down Morales. But on top of that, Abe seems to continue to manage the Votaries by far, Volos of course is not really clear, and Danny has decided to put all the chances on his side so that Kate agrees to let him go to a special school… But when on top of that, Kate is no longer sure to be able to trust her partner, everything becomes even more explosive.
This new investigation was interesting and I confess that I was really wondering what was going on. I did not see the turnaround coming and I was quite surprised about it. Of course, I always have several questions and am curious to find out what is going to happen now. I will never say it enough, but yes I am "team Volos" so it is true that I liked to see him in this novel and to attend his exchanges with Kate. It is true that it is very difficult to rule on him but he is always there when she needs him. As for Morales, I confess that I was quite surprised and I did not expect that from him.
In short a fourth volume very nice and I now wait for volume 5 with curiosity.