Scorched – Erica Hayes
In a world where everyone wears a mask, you can't trust anyone… not even yourself.Verity Fortune was once Sapphire City's top crime-fighter, wielding her powers of telekinesis to battle the city's most despicable villains. Now, she's consumed by a single burning desire: revenge. Against those who took away her mask, her memory, and nearly her life.Having escaped from the asylum they left her to rot in, Verity dons her mask once again and becomes the Seeker, a vigilante warrior for truth.But when she unwittingly uncovers an evil conspiracy deep within her own family, she's suddenly on the run, alone and hunted by those she thought were on her side…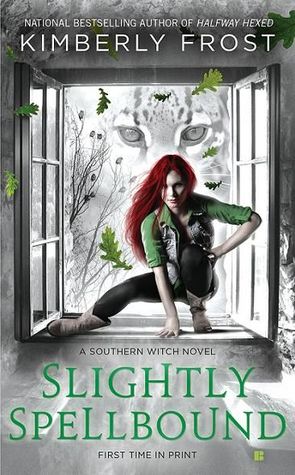 Slightly Spellbound (Southern Witch, 4) – Kimberly Frost
With two kinds of magick at odds inside her and two gorgeous men vying for her attention, Tammy Jo Trask is used to being pulled in opposite directions. But in the latest Southern Witch novel she'll have to make some serious decisions—like how she intends to stay alive.Tammy Jo's romance with the wizard Bryn Lyons is on hold while her ex-husband is in town trying to remind her of the good old days. Choosing between them isn't easy, and it doesn't help that a skeletal creature is spying on her, a faery knight is hunting her, and she just made friends with Evangeline Rhodes—a rich witch who thinks her own family is trying to kill her.When Evangeline disappears under suspicious circumstances, Tammy Jo is determined to find out what happened. As she uncovers a secret more dangerous—and personal—than she could have imagined, she also discovers that, in both love and magic, you can't stay neutral forever.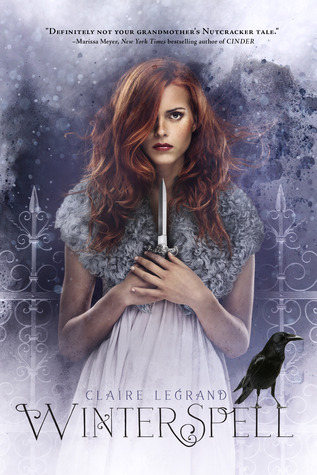 Winterspell – Claire Legrand
The clock chimes midnight, a curse breaks, and a girl meets a prince . . . but what follows is not all sweetness and sugarplums.
New York City, 1899. Clara Stole, the mayor's ever-proper daughter, leads a double life. Since her mother's murder, she has secretly trained in self-defense with the mysterious Drosselmeyer.
Then, on Christmas Eve, disaster strikes.
Her home is destroyed, her father abducted–by beings distinctly not human. To find him, Clara journeys to the war-ravaged land of Cane. Her only companion is the dethroned prince Nicholas, bound by a wicked curse. If they're to survive, Clara has no choice but to trust him, but his haunted eyes burn with secrets–and a need she can't define. With the dangerous, seductive faery queen Anise hunting them, Clara soon realizes she won't leave Cane unscathed–if she leaves at all.
Inspired by The Nutcracker, Winterspell is a dark, timeless fairy tale about love and war, longing and loneliness, and a girl who must learn to live without fear.
Rules of Survuval – Jus Accardo
If you want to survive, you have to follow the rules…
Mikayla Morgan is wanted for her mother's murder. She's been on the run for almost a year now, avoiding not only the police but the real killer. Tired of running and desperate to clear her name, she breaks one of the most sacred rules: never return to the scene of the crime.
Every bounty hunter on the Eastern Seaboard is after the Morgan girl—but Shaun Denver and his partner snagged her. She's a piece of work, and Shaun can't decide if he wants to kiss her or kill her. When things take a sharp turn south, Shaun does the only thing he can think of to keep her close—he handcuffs them together.
As the danger mounts and the killer closes in, the chemistry between them threatens to explode. Shaun and Kayla will need to break all the rules if they hope to get out of this alive.
Steles of the Sky (Eternal Sky, 3) – Elizabeth Bear
Elizabeth Bear concludes her award-winning epic fantasy Eternal Sky trilogy in Steles of the Sky.
Re Temur, legitimate heir to his grandfather's Khaganate, has finally raised his banner and declared himself at war with his usurping uncle. With his companions—the Wizard Samarkar, the Cho-tse Hrahima, and the silent monk Brother Hsiung—he must make his way to Dragon Lake to gather in his army of followers. But Temur's enemies are not idle; the leader of the Nameless Assassins, who has shattered the peace of the Steppe, has struck at Temur's uncle already. To the south, in the Rasan empire, plague rages. To the east, the great city of Asmaracanda has burned, and the Uthman Caliph is deposed. All the world seems to be on fire, and who knows if even the beloved son of the Eternal Sky can save it?
Thornlost (Glass Thorns, 3) – Melanie Rawn
The third book in Melanie Rawn's superb new high fantasy series, that blends the worlds of magic, theater, art and politics!
Melanie Rawn returns to her rich high fantasy world in this sequel to Touchstone and Elsewhens.
Cayden is part Elf, part Fae, part human Wizard—and all rebel. His aristocratic mother would have him follow his father to the Royal Court, to make a high-society living off the scraps of kings. But Cade lives and breathes for the theater, and he's good, very good. He's a tregetour—a wizard who is both playwright and magicwielder. It is Cade's power that creates the magic, but a tregetour is useless without a glisker—an elf who can spin out the magic onto the stage, to enchant the audience. And Cade's glisker, Mieka, is something special too. So is their fettler, Rafe, who controls the magic and keeps them and the audience safe. And their masker, Jeska, who speaks all the lines, is every young girl's dream.
They are reaching for the highest reaches of society and power, but not the way Cade's mother thinks they should. They'll change their world, or die trying.
The House – Cassie Alexander
The House is a place where all of your desires can be realized — all you have to do is open the door.
Will you unlock the room with two men waiting to serve you? Or the one with dom inside? Which mask will you choose to wear to the ball? Who will you be for the night – and how many people will you sleep with along the way?
The House is a sexually explicit erotic adventure novel that lets you choose your path. It includes intense scenes of BDSM, bondage, spanking, MMF, FFF, orgies, etc.
The House has a door for everyone inside — especially you.