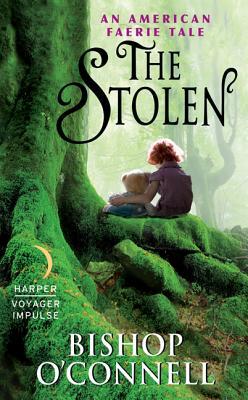 An American Faerie Tale, Book 1

Synopsis: Tonight, for the first time in over a century, a mortal child will be kidnapped by faeries.

When her daughter Fiona is snatched from her bed, Caitlin's entire world crumbles. Once certain that faeries were only a fantasy, Caitlin must now accept that these supernatural creatures do exist—and that they have traded in their ancient swords and horses for modern guns and sports cars. Hopelessly outmatched, she accepts help from a trio of unlikely heroes: Eddy, a psychiatrist and novice wizard; Brendan, an outcast Fian warrior; and Dante, a Magister of the fae's Rogue Court. Moving from the busy streets of Boston's suburbs to the shadowy land of Tír na nÓg, Caitlin and her allies will risk everything to save Fiona. But can this disparate quartet conquer their own inner demons and outwit the dark faeries before it's too late?
Review: I have a real weakness for Faes and when I saw this novel, especially the synopsis, I knew it would be perfect for me. And I must say that I had a great time with it and I am now very curious to read more. Bishop O'Connell presents us a rich and interesting world that we take pleasure to discover.
When Caitlin returns home after a party, she is attacked by a gang of some very strange young persons. Narrowly saved by a stranger who kills without flinching one of the attackers, she returns home to discover these persons trying to kidnap her daughter Fiona. Yes you can imagine that this will completely disrupt the life of the young woman who is determined to get her daughter back at all costs! But it seems that she won't be alone in this adventure when her best friend, Edward is also involved in the adventure by revealing that he is a wizard. Caitlin is not enough already destabilized that she must now manage a whole new world she did not know about and when the stranger named Brendan decides that it is his mission to save Fiona, the young woman will be forced to trust him, and his friend Dante. But these two characters are not ordinary, oh no, because they are part of Faeries people and it seems that the girl is in this other world and it seems that she could be more important than expected.
While we follow Edward and Dante in some chapters and their quest in our world, we also follow the adventures of Brendan and Caitlin in Faerie, and no matter which side we are, I can tell you that the history is moving a lot! Indeed, the first two are trying to find out who the wizard who is helping to neutralize them is, but this wizard is well protected and determined to make them pay for this affront. On the other hand, we also follow, as I told it, Brendan and Caitlin in that other rally intriguing world. The two will have to work together to try to find the girl. Yet many obstacles will come in their way through and it will not be easy to achieve their goals. However, we meet many characters from different species and it's true that I'm really curious to learn more about them. Oh yes because we meet Puck, but also kings and queens, and many other players fun to explore.
In terms of the plot I admit that I quickly realized where the author was going to lead us, so even if some of the revelations of the main frame didn't surprise me, I found that everything was really well done and I didn't have any problems with that. We anyway have some nice surprises and I am very curious to know what will happen later because the story is just beginning. I had a lot of questions about the possible couple Edward / Caitlin and Brendan / Caitlin and I confess that if the second appeared to me quite clearly, I have some trouble with the first. But in any case I think I'll see how it will end exactly to see how they will evolve the one with the other. I really hope that we'll see very quickly all the characters that I really appreciated here. It was a very good first novel and I am looking forward to read more! A great surprise for me!