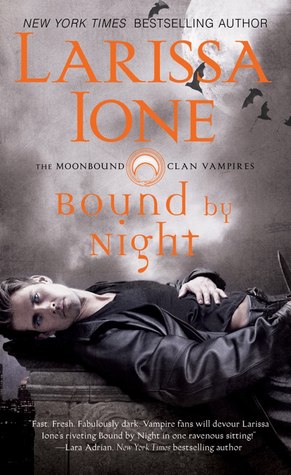 MoonBound Clan Vampire, Book 1
Synopsis: A WOMAN OUT FOR BLOOD

Nicole Martin was only eight years old when the vampire slaves rose up in rebellion and killed her family. Now she devotes her life to finding a vaccine against vampirism, hoping to wipe out her memories—along with every bloodsucker on the planet. But there's one thing she cannot destroy: her searing, undeniable attraction for the one man she should hate and fear the most . . .

A VAMPIRE OUT FOR REVENGE

A member of the renegade vampire MoonBound Clan, Riker is haunted by demons of his own. When he recognizes Nicole and remembers how her family enslaved his loved ones, his heart burns for vengeance. But when he kidnaps Nicole and holds her in a secret lair, his mortal enemy becomes his soul obsession, his greatest temptation, and, perhaps, his only salvation—a hot-blooded lover who could heal him with her touch . . . or bury him forever.
Review: I had not yet the opportunity to read a novel by Larissa Ione, but I did not miss all the glowing reviews everywhere. Also with the release of Bound by Night, I was curious to see how her new series was. I must say that I was completely caught by the story and I had a great time with Riker and Nicole.
We discover an interesting world, where vampires are placed in bondage by humans where they are often treated as less than nothing. Here, we meet with Riker, a renegade vampire and Nicole, the president of the group that deals with the sale of vampires. The young woman has always taken a step back from her company and she is just returning at its head now. But while Riker kidnaps our heroine so she can help them getting back a missing vampire, Nicole is going to find herself thrown into a whole new world where her existence is questioned. While she hates vampires since the death of her nurse and her family, Nicole will understand that there are a lot of things she was not aware of and she'll realize what it means to enslave a person. She also realizes that her company is not as white as she thought … and yet is it too late to change it all when everyone is against her? Teaming up with Riker, Nicole discovers a new world, where she could find her place elsewhere but she will also have to manage her feelings for the man in question. This last fact is also the most difficult thing especially when we know that the vampire can not leave his past behind him and is haunted whatever the circumstances.
I loved to follow the couple Riker / Nicole. Nothing predisposed to the birth of a relationship between them and yet an irresistible attraction appears. Both stands carefully around the other for different reasons but it is quite easy to understand that. It's pretty cool to see a romance evolving over the chapters, through many obstacles, but not the least. We're also affected by what happens, by the events they face and the support they have for one another. These are two wounded souls with many prejudices but who will nevertheless realize that many things make them alike. But it's not just that, because I was also really carried away by the plot, by the business' hidden secrets, some pretty terrible ones elsewhere; by the details of the lives of the vampires and humans, by the researches carried out by the Nicole's family.
So yes, you'll understand that I really had a great time with this story and I'm looking forward to read more and discover the second volume. New ideas are put forward in this book to our delight and I loved discovering this novel. A very good surprise to me.