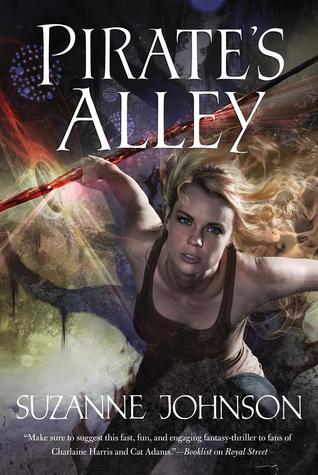 Sentinels of New Orleans, Book 4
Synopsis: Wizard sentinel DJ Jaco thought she had gotten used to the chaos of her life in post-Katrina New Orleans, but a new threat is looming, one that will test every relationship she holds dear.

Caught in the middle of a rising struggle between the major powers in the supernatural world—the Wizards, Elves, Vampires and the Fae—DJ finds her loyalties torn and her mettle tested in matters both professional and personal.

Her relationship with enforcer Alex Warin is shaky, her non-husband, Quince Randolph, is growing more powerful, and her best friend, Eugenie, has a bombshell that could blow everything to Elfheim and back. And that's before the French pirate, Jean Lafitte, newly revived from his latest "death," returns to New Orleans with vengeance on his mind. DJ's assignment? Keep the sexy leader of the historical undead out of trouble. Good luck with that.

Duty clashes with love, loyalty with deception, and friendship with responsibility as DJ navigates passion and politics in the murky waters of a New Orleans caught in the grips of a brutal winter that might have nothing to do with Mother Nature.

War could be brewing, and DJ will be forced to take a stand. But choosing sides won't be that easy.
Review: It's been a while, I admit it, that I was waiting for some new adventures from our beloved DJ. Oh yes, I had even forgotten about some events but everything came back rather quickly after the first chapters. What a pleasure to find all the characters from the previous volumes and to discover a new story. I'm sure that you're wondering if the volume is up to the others and I can tell you now that this is the case! So yes if you liked the series so far, you will not be disappointed because Suzanne Johnson still has many ideas for us.
Let's go back a little more to the story … DJ has a lot to manage and nothing will get better, oh no, that's for sure! Indeed, she must make some important choices that will severely impact on her life. While it's hard to create a real relationship with Alex, to overcome their problems, their trust is now put to the test here. Alex has an unwavering loyalty compared to his bosses while Drusilla prefer to think and act as best as she can … Unfortunately for her, she is sometimes forced to lie to her lover who does not necessarily would place her first. In addition to this, our heroine is also forced to deal with her feelings towards our pirate. Ah Jean … How not to fall under his spell and I admit that I was passionate about their conversations and scenes. To complicate matters, we also have Randolph, our elf with an oversized ego … Randolph, Randolph … it's hard to love this character and yet sometimes our heart softens for him to start to hate him once again. I'll let you discover the reasons for all this.
A war is brewing, different species are starting to take side to know with whom to ally. This is a fairly difficult environment to manage, but it was very interesting to see the actions of the characters. I really enjoyed seeing that DJ is realizing that nothing is black or white and that she is sometimes forced to make decisions alone even if it puts her in undesirable positions. New players come into play, especially with the faes and I admit that I'm curious to see what will happen afterwards. There are a lot of things going on in this novel and I was quite surprised to see the situations in which DJ is found. I must say that everyone is trying to accuse her of their problems.
I will not go into too many details because it would be easy to tell everything but I can tell you that I loved the novel once again. The end also triggers a lot of new problems and I'm very curious to see how our heroes are going to go out of all that again. A really good read!
PS: Don't forget to visit the author's post where you can win the book of your choice here.