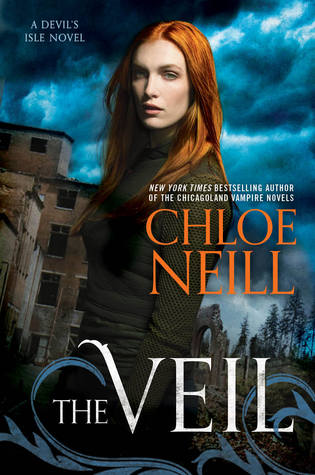 Devil's Isle, Book 1
Synopsis: Seven years ago, the Veil that separates humanity from what lies beyond was torn apart, and New Orleans was engulfed in a supernatural war. Now, those with paranormal powers have been confined in a walled community that humans call the District. Those who live there call it Devil's Isle.

Claire Connolly is a good girl with a dangerous secret: she's a Sensitive, a human endowed with magic that seeped through the Veil. Claire knows that revealing her skills would mean being confined to Devil's Isle. Unfortunately, hiding her power has left her untrained and unfocused.

Liam Quinn knows from experience that magic makes monsters of the weak, and he has no time for a Sensitive with no control of her own strength. But when he sees Claire using her powers to save a human under attack—in full view of the French Quarter—Liam decides to bring her to Devil's Isle and the teacher she needs, even though getting her out of his way isn't the same as keeping her out of his head.

But when the Veil threatens to shatter completely, Claire and Liam must work together to stop it, or else New Orleans will burn…
Review: I heard a lot of good things about Chloe Neill, including about her vampire series but I really discovered her with one of her YA series. I have the first four books of her vampire series, but I really should read them one day. In any case, with the release of a new urban fantasy novel, it's true that I was once again drawn to the writings of the author and I was curious to see what she was going to propose to her readers.
I admit that the novel was a bit reminiscent of a series that I follow and appreciate. I do not know if you know about the Deadtown series by Nancy Holzner but the basic idea is much the same, although the story behind it, is not really. We find in both, a city in which there is a clean area where magical creatures live somehow and stay locked up without being able to leave. But it is true that the similarities end there and the world is very intriguing. Indeed, a veil between the human world and the others was torn years earlier and a war had ravaged New Orleans leaving people full of resentment towards paranormal or para. This is where we discover Claire, a young woman who survived the war and lives thinking that every creature is her enemy, as well as any kind of magic. But when she finds out that she has telekinetic powers, her life changes dramatically. Propulsed on the front of the stage, she will have to team up with Liam, a hunter who will help her to control her power and to understand that nothing is black or white and there is good and black in each of us.
I had a little trouble to really get into the story at first, but after some chapters, I admit that it became better. Claire is a young woman fun to learn about and to follow. We understand perfectly her desire to become the person she was, but also to help others no matter what happens and to prevent a new war. And then we have Liam. This boy is more difficult to define but it is also the mystery that makes us want to know more about him, to know about his past and desires and I was curious to see how he would act. I was also curious to know the end of the investigation in which they're dipped. Indeed, Sensitive seem to turn into other creatures without anyone understanding the reason and our two heroes will try to find out what exactly is happening. The author also reserves us some surprises about that.
It was a good first book to explore and I'm curious to see what it will be for us in the future now.