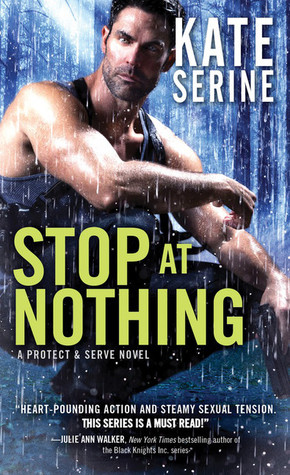 Protect and Serve, Book 1
Synopsis: When a high-profile investigation goes wrong, FBI Agent Kyle Dawson is transferred back home where he is forced to confront his demons…and the only woman he ever loved. Three years ago, Kyle and Abby Morrow shared a wild, passionate summer—then Abby broke his heart.

NOW SHE NEEDS HIS HELP

Kyle never stopped loving Abby. So when Abby uncovers evidence of a human-trafficking ring, leading to her sister's kidnapping, he swears he'll stop at nothing to bring her sister home and keep Abby safe. Caught in a lethal game of cat and mouse and blindsided by their own explosive desires, they must set aside the past before it's too late.
Review: I enjoyed the fairy tales series by Kate Serine and it's true that when I heard about a new, suspense romance story, I admit that I was curious to find out more about it. And in a totally different note, I spent a great time with the story.
We discover Kyle, a FBI agent who is forced after a case to leave and go back to work in his native country. This is not necessarily something nice for him because he has to face his family and his father that he left in pretty bad terms or even the girl he has never stopped loving but who also broke his heart. But their reunion will be far from what they both thought… Indeed, it seems that the young woman had fallen of something terrible while working for a client, a human beings traffic story, and those responsible are not very happy about this leak. It is in this context that our heroine's sister, Abby, is kidnapped and that Kyle and the young woman will have to team up to understand what exactly is happening. Yet it may well be that this story surpasses her completely and put them all in danger.
I was quickly caught by all events. It was indeed interesting to follow our heroes trying to determine the truth behind the story. I suspected some facts but I also enjoyed seeing how it all unfolded. Many parts enter the fray here and we remain attentive to understand what each character brings to the story. In any case, I took pleasure in discovering Kyle, to see him try to make Abby fall in love with him, to help her and be there whatever happens. We can also see him facing his family and realize that he did not know what was happening in reality. Then we also have Abby… we therefore discover her history, why she left Kyle, her desire to protect her family and to find out what exactly happened. These are two characters very easy to appreciate and I am curious now to see what the author will introduce us in Volume 2.