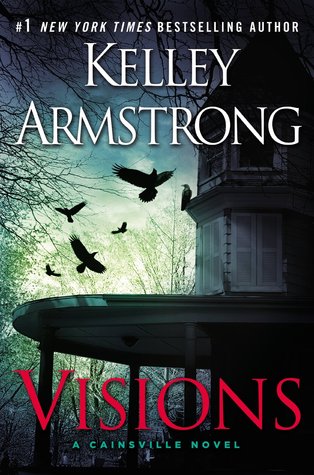 Cainsville, Book 2
Synopsis: Omens, the first installment in Kelley Armstrong's exciting new series, introduced Olivia Taylor-Jones, daughter of notorious serial killers, and Gabriel Walsh, the self-serving, morally ambiguous lawyer who became her unlikely ally. Together, they chased down a devious killer and partially cleared her parents of their horrifying crimes.

Their success, however, is short-lived. While Olivia takes refuge in the old, secluded town of Cainsville, Gabriel's past mistakes have come to light, creating a rift between the pair just when she needs his help the most.

Olivia finds a dead woman in her car, dressed to look like her, but the body vanishes before anyone else sees it. Olivia's convinced it's another omen, a sign of impending danger. But then she learns that a troubled young woman went missing just days ago—the same woman Olivia found dead in her car. Someone has gone to great lengths to kill and leave this young woman as a warning. But why? And what role has her new home played in this disturbing murder?

Olivia's effort to uncover the truth places her in the crosshairs of old and powerful forces, forces that have their own agenda, and closely guarded secrets they don't want revealed.
Review: I was very surprised by the first novel and I had a wonderful time with it and with the release of the third book, I was eager to read on to discover the continuity of Olivia's adventures.
After proving the innocence of her parents for two of the murders, our heroine begins to work while trying to handle any problems that occur during her life and for that, there are many of them. Firstly, we find James and his rather unhealthy desire to recover Olivia, putting her in rather disturbing situations. There is also the disappearance of a young woman in the city and our heroine seems to see her corpse in some places she is before the disappearance of the body each time. Is this a vision? Is this real? This is a question that will become increasingly important and Gabriel and Olivia will have to team up to solve this strange mystery. But this murder will upset the life of our waitress who will finally discover some secrets of Cainsville, many of which I did not expect. We learn the truth about the people, the elders, and some details about Olivia's life. The set was really fascinating and I was completely carried away by the story and the characters.
In addition to the fascinating plot and evolutions of the story to which we do not expect, we also see some new interest in the love life of our heroine regarding the men around her. Thus we have the chance to see Ricky, a man I appreciate more and more and who seems to be a man that we can only love. He has everything of the bad boy who assumes his rebellious side and yet a rather sensitive aspect that makes us easily fall under his spell. And then we also have Gabriel … Ah Gabriel … It's a character that we also love, but he is also very complex and it's difficult to statute about him. Yes, he sometimes fails to understand that the consequences of his actions can have adverse effects and that his distance from others makes his life very difficult.
In any case, it was a fascinating novel, and I took a great pleasure to read and follow all the adventures of our heroes. It was once again a fantastic book and I'm really excited to be able to immerse myself in the rest of the story and to discover more.