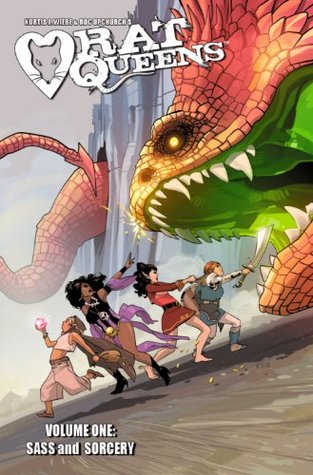 Rat Queens, Book 1
Synopsis: Who are the Rat Queens?

A pack of booze-guzzling, death-dealing battle maidens-for-hire, and they're in the business of killing all god's creatures for profit.

It's also a darkly comedic sass-and-sorcery series starring Hannah the Rockabilly Elven Mage, Violet the Hipster Dwarven Fighter, Dee the Atheist Human Cleric and Betty the Hippy Smidgen Thief. This modern spin on an old school genre is a violent monster-killing epic that is like Buffy meets Tank Girl in a Lord of the Rings world on crack!

Review: This is a comic that I did not know about but Mogsy said a lot of great things about it. If you do not know her, you will discover some great books on her blog. In any case, I asked her for an advice for a present (a gift that I finally read elsewhere too) and I bought this volume without really knowing more about it.
We discover three young women, three fighters who are increasingly frowned upon by people, causing mayhem in the city. But they are not alone, and these groups will be sent on a mission, something they all must do to have the right to stay in town. Yet here, this is not a mission like any other but rather a trap to get rid of all our heroes. But our heroines are strong and they will do everything to understand what is really going on and find out who wants to end their lives.
I had a pleasant time with this comic and it's true that I was somewhat curious about the result, especially after such a purpose. The young women are interesting to discover. Besides, they are all very different and I was curious to see how they evolve together during the story.
You'll understand that it is a first volume that is fun to read, and the illustrations are mastered. It's as well a different story to discover.