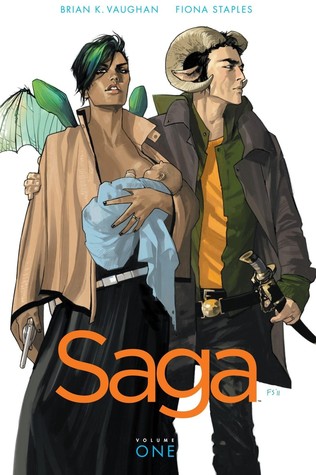 Saga, Book 1
Synopsis: When two soldiers from opposite sides of a never-ending galactic war fall in love, they risk everything to bring a fragile new life into a dangerous old universe.

From bestselling writer Brian K. Vaughan, Saga is the sweeping tale of one young family fighting to find their place in the worlds. Fantasy and science fiction are wed like never before in this sexy, subversive drama for adults.

Collects Saga issues #1-6.
Review: This is another comic that Mogsy had recommended me and it is true that by sharing her enthusiasm, I was curious to discover more about the story. I'm not necessarily a big fan of science fiction, especially when it comes to planets and aliens but it's true that this issue did not bother me finally here.
We discover an impossible relationship between Alana and Marko. Alana is a young woman working for a prisoner detention and Marko is one of her captives. But now, falling pregnant and fleeing this world where everyone pursues them, our two heroes will try to leave the planet for a world that will let them live in peace. The novel begins with the birth of their daughter Hazel (very nice name by the way) and their desperate flight to escape the events. However, this will not be as simple, especially since everyone wants to catch them, whether a prince or some bounty hunters.
I was quite curious to see where the story of our three characters would lead us and exploring the secondary protagonists was also very interesting. We find different species interacting here and evolving together more or less peacefully.
The designs are once again very well done and perfectly lays the history databases of the comics. I enjoyed discovering the characters and even though I admit that I am curious to know what will happen to the parents, I'm even more intrigued by their daughter Hazel. Their survival does not necessarily seem very simple. It remains for me to read more now.