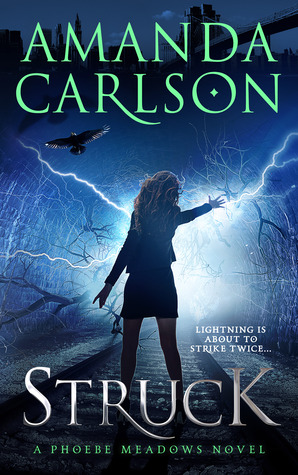 Phoebe Meadows, Book 1
Synopsis: When Phoebe Meadows gets struck by a strange light in the stockroom of Macy's, life as she knows it flies out the window. As if being hit by lightning isn't bad enough, she's accosted in the subway by a man with a missing hand, arrives home to find a raven on her kitchen counter, and her neighbor, Ingrid, shows up dressed like a gladiator hell-bent on protecting her.

Before Ingrid can shuttle her to safety, Phoebe is kidnapped and tossed into one of the Nine Worlds where she's quickly forced to come to terms with what she is: A valkyrie. The only problem is, she has no idea what that means.

After a narrow escape, she finds an unlikely ally in Loki's son, Fenrir. Together the valkyrie and the wolf must battle their way back to New York City and reach the valkyrie stronghold where Ingrid is waiting for her. But with danger and obstacles at every turn, she might not live long enough to learn the full truth about who and what she really is…
Review: I was really intrigued when I learned that Amanda Carlson would release a new book and I admit that I was looking forward to immersing myself in this new story. How not to be? Especially when we see that the Norse mythology is being honored here! I love everything related to mythology and urban fantasy is a genre that I like more than anything, this novel therefore seemed perfect for me!
Phoebe lives her life as anyone else until it changes dramatically the day a light hits her in the back room of the store where she works. Indeed, it is at this time that she learns she is supposed to be a Valkyrie and that she is the daughter of Odin, exiled since birth. That's a lot to swallow for someone who knows nothing about this world, especially when it includes a manhunt where she is nothing more than a prey. And what a prey! It seems that all the most powerful beings are in pursuit for her. When her neighbor and Aunt, Ingrid, is not able to explain what she is and what she has to do, Phoebe finds herself propelled into another world where she will have to find new allies and to understand very quickly the limits of her capacity to survive in this new world.
I took a lot of pleasure in discovering this novel. The mythology is a main point of the story and I found that the ideas were carried out brilliantly. Many characters are found here and I loved to meet and get to know them all. But the one really featured here is no-one but the demi-god Fenrir! Oh yes, how not to fall in love with this character who is finally ready to do anything to help and save our heroine. But I'll let you the opportunity to learn more about him. In terms of Phoebe, we understand her confusion over what is happening but it was fascinating to see the evolution and to find out who she is and what she can really do. She progresses from this rather awkward girl into a young woman determined and desperate to help the persons she loves!
Yes it was a nice discovery for an introduction into a new series and I'm really excited to be able to read more now!