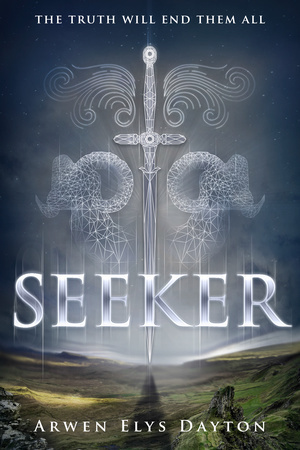 Seeker, Book 1
Synopsis: The night Quin Kincaid takes her Oath, she will become what she has trained to be her entire life. She will become a Seeker. This is her legacy, and it is an honor.

As a Seeker, Quin will fight beside her two closest companions, Shinobu and John, to protect the weak and the wronged. Together they will stand for light in a shadowy world.

And she'll be with the boy she loves–who's also her best friend. But the night Quin takes her Oath, everything changes.

Being a Seeker is not what she thought. Her family is not what she thought. Even the boy she loves is not who she thought. And now it's too late to walk away.
Review: I had seen this book several times on blogs but the mixed reviews prevented me too try it. Still, I was quite intrigued when it was offered to me, and well you always need to try to get a clean opinion, right? Thus I tried hoping my feeling would be better.
I felt from the beginning that I would have some difficulties with the story, or at least that I would not enjoy it as much as I would like. We don't have enough explanation, I felt like the author didn't share enough either with the readers so that we understand exactly what is happening. We can thus take the example of Seekers … well I can tell you that if at the beginning of the story everything is all fuzzy about them, we do not know more at the end … It's frustrating because the story revolves only around them but we do not identify anything. I think this is the main problem of the novel, the lack of construction of the world, the lack of explanation and we are finally moving in something superficial that we never understand. But this time, I do not even have the excuse to say that English is perhaps the cause of my confusion and that I did not understand certain points because I did read the novel in French. I find it a little disappointing because I'm sure the story would have deserved much more and could have been better! But ultimately this is not only regarding the explanations of the nature of the Seekers, but many others too, and even if you get used to it little by little, you always hope to understand what happens in detail. I seem negative, but I have another problem with the story: the time … I admit that I sometimes struggled to understand the period of the story: present, near past, distant past, future. It often took me a few pages to set the story (and still I am not sure all was well located).
Don't worry we also have a good time but the idea could be interesting if there was more substance. We can also read the book rather quickly and I still loved what I glimpsed or tried to understand. I liked to follow Quin even if I do not understand at all her obsession to please her father and to accept the unspeakable acts that he made her face. I do not know, it's a readable story, it's not great but we remain curious about the events, however, it deserved further deepening.